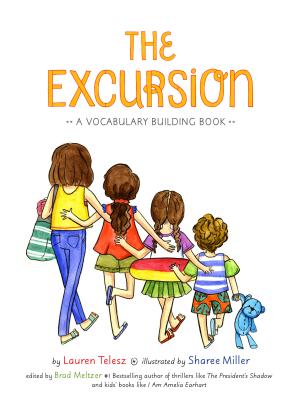 The Excursion
A Vocabulary Building Book
Paperback

* Individual store prices may vary.
Other Editions of This Title:
Hardcover (3/25/2016)
Description
WISH [wish] (n.) A desire or hope for something to happen that is not easily attainable. When I was diagnosed with cancer many things changed. I had to shave my head, wear a wig, go to the hospital, and define lots of big words for my 3-year-old brother. My family's vocabulary expanded to include unfamiliar, new words such as cancer and chemotherapy. My brother was confused. What did all these big words mean? As I explained them to him, he absorbed their meaning, learning their definitions with remarkable curiosity and ease. As I spent more time at home, bedridden with my brother by my side, I taught him new vocabulary and watched him pick up and try out new words. It inspired me to write this book and it was all made possible by Make-A-Wish®!
Homebound Publications, 9781938846892, 26pp.
Publication Date: March 25, 2016
About the Author
Lauren Telesz lives in Fairfield, Connecticut. She is a senior at Greens Farms Academy. A voracious reader, Lauren has always been fascinated with the written word. When she is not devouring books, Lauren loves to write and create her own stories. She also loves spending time with her family. As the oldest of four there is never a dull moment at home, especially with a 5 year old brother! Lauren also likes to golf and fence.
Brad Meltzer is the #1 New York Times bestselling author of The Inner Circle, The Book of Fate, and nine other bestselling thrillers including The Tenth Justice, The First Counsel, The Millionaires, The Book of Fate, and The President's Shadow. His newest book is The House of Secrets.

In addition to his fiction, Brad is one of the only authors to ever have books on the bestseller list for Non-Fiction (History Decoded), Advice (Heroes for My Son and Heroes for My Daughter), Children's Books (I Am Amelia Earhart and I Am Abraham Lincoln) and even comic books (Justice League of America), for which he won the prestigious Eisner Award.

He is also the host of Brad Meltzer's Lost History on H2 and Brad Meltzer's Decoded on the History Channel. The Hollywood Reporter recently put him on their list of Hollywood's 25 Most Powerful Authors.

Brad is also responsible for helping find the missing 9/11 flag that the firefighters raised at Ground Zero, making national news on the 15th anniversary of 9/11. Using his TV show, Brad Meltzer's Lost History, he told the story of the missing flag and asked Americans for their help in returning it. Four days later, a former Marine walked into a fire station in Everett, Washington, said he saw Meltzer's TV show, and now wanted to return the flag. Meltzer recently unveiled the flag at the 9/11 Museum in New York, where it is now on display. See the video here.

For sure, it's tough to find anyone being so successful in so many different mediums of the popular culture. But why does Brad thrive in all these different professions? His belief that ordinary people change the world. It is that core belief that runs through every one of his projects.

His newest thriller, The House of Secrets, is about the host of America's favorite conspiracy TV show. When he's murdered, his daughter has to solve the crime — and quickly realizes that all the secret stories her father told her growing up were real. Yes, it's full of secret history, including the coolest story you've ever heard about George Washington and Benedict Arnold. And yes, Brad is already working on his next thriller.

His illustrated children's books I Am Amelia Earhart and I Am Abraham Lincoln were written for his own children, to give them better heroes to look up to. Try them. You won't believe how inspired you and your family will be. The next in the series will be I am George Washington and I am Jane Goodall (September).

His other non-fiction books, Heroes for My Son and Heroes for My Daughter, are collections of heroes – from Jim Henson to Sally Ride — that he's been working on since the day his kids were born and is on sale now, as well as History Decoded: The 10 Greatest Conspiracies of All Time.

He's also one of the co-creators of the TV show, Jack & Bobby.

Raised in Brooklyn and Miami, Brad is a graduate of the University of Michigan and Columbia Law School. The Tenth Justice was his first published work and became an instant New York Times bestseller. Dead Even followed a year later and also hit the New York Times bestseller list, as have all eight of his novels. The First Counsel came next, which was about a White House lawyer dating the President's daughter, then The Millionaires, which was about two brothers who steal money and go on the run. The Zero Game is about two Congressional staffers who are – literally – gambling on Congress. The Book of Fate, is about a young presidential aide, a crazed assassin, and the 200 year-old code created by Thomas Jefferson that ties them together. For authenticity, The Book of Fate, was researched with the help of former Presidents Clinton and Bush. The Book of Lies, is about the missing murder weapon that Cain used to kill Abel, as well as the unsolved murder of Superman creator Jerry Siegel's father. Brad is one of the only people to interview Jerry Siegel's family about the murder and, with his charitable site www.OrdinaryPeopleChangeTheWorld.com, has been the driving force behind the movement to repair the house where Superman was created.

His book The Inner Circle (and its sequels, The Fifth Assassin and The President's Shadow) is based the idea that George Washington's personal spy ring still exists today. A young archivist in the National Archives finds out the spy ring is still around. He doesn't know who they work for — but the greatest secret of the Presidency is about to be revealed. While researching the book, former President George HW Bush also gave Brad, for the very first time, the secret letter he left for Bill Clinton in the Oval Office desk. Oh, and yes, Brad was recruited by the Department of Homeland Security to brainstorm different ways that terrorists might attack the US.

His books have spent over a year on the bestseller lists, and have been translated into over 25 languages, from Hebrew to Bulgarian. In The Tenth Justice, the opening lines are: "Ben Addison was sweating. Like a pig." In the Hebrew translation, it became: "Ben Addison was sweating. Like a horse." We're not sure if it's a kosher thing or what!

Brad has played himself as an extra in Woody Allen's Celebrity, co-wrote the swearing in oath for AmeriCorps, the national service program, and earned credit from Columbia Law School for writing his first book, which became The Tenth Justice. Before all of that, he got 24 rejection letters for his true first novel, which still sits on his shelf, published by Kinko's.

Brad currently lives in Florida with his wife, who's also an attorney.
Sharee has a BFA in Communication Design from Pratt Institute.  She now works in New York City as a writer/illustrator of children's books and aa a kids t-shirt graphic designer.  She's the author and illustrator of Princess Hair and Do not Touch My Hair to be published by Little Brown for young readers, She has also self-published Night time Routine. Sharee hopes to inspire and promote love of one's natural hair through her art.
or
Not Currently Available for Direct Purchase