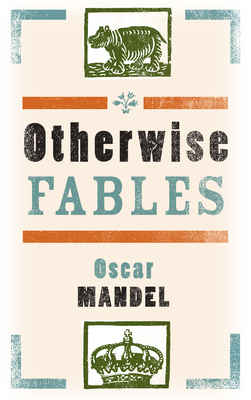 Otherwise Fables
Gobble-Up Stories/Chi-Po and the Sorcerer/The History of Sigismund, Prince of Poland
Paperback

* Individual store prices may vary.
Description
"Dazzlingly witty" -- CYNTHIA OZICK
Otherwise Fables is the first complete collection of Oscar Mandel's fiction, including the Gobble-Up Stories and the novellas The History of Sigismund, Prince of Poland, and Chi Po and the Sorcerer. As witty as Sedaris and as profound as Calder n, Mandel's little moral tales are full of unexpected points, deep lessons, ethical ambiguity, and dry wit. Slyly subversive tales of magicians, princes, and animals will delight readers young and old with intellectually sophisticated examples of philosophical allegory and compelling storytelling. Mandel's timeless tales raise challenging questions of modern culture with panache, charm, and magic.
Prospect Park Books, 9781938849213, 280pp.
Publication Date: April 1, 2014
About the Author
Oscar Mandel is an acclaimed Belgian-born American author, scholar, and playwright who has published on numerous topics in English and French. He has written on the subject of literary theory and art history, translated plays, and authored poetry, drama, and fiction. He is professor emeritus of literature at the California Institute of Technology, having taught there for more than forty years. He lives in Paris, France, and Los Angeles, California.