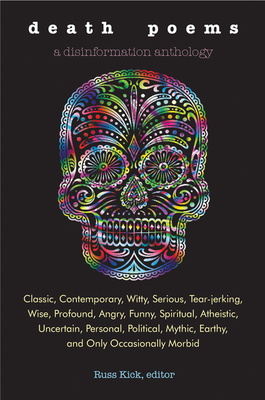 Death Poems: Classic, Contemporary, Witty, Serious, Tear-Jerking, Wise, Profound, Angry, Funny, Spiritual, Atheistic, Uncertain, Pe (Paperback)
Classic, Contemporary, Witty, Serious, Tear-Jerking, Wise, Profound, Angry, Funny, Spiritual, Atheistic, Uncertain, Pe
Disinformation Company, 9781938875045, 326pp.
Publication Date: November 15, 2013
Description
This is the most comprehensive, not to mention the first, anthology of death poetry ever published in the English language and is ultimately life affirming. The book is an unprecedented, vast survey of death in poetry that cuts across time, world cultures and languages. The book covers a range of subjects, from the death of children, lost loves and funeral rites, to serial killers, 9/11, the death penalty, roadkill, war, the Underworld, reincarnation and elegies to famous people.
Advertisement