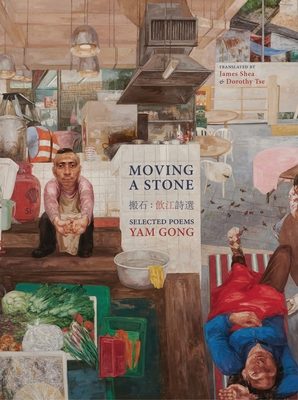 Moving a Stone
Bilingual in Chinese and English (Hong Kong Atlas #4)
Paperback

* Individual store prices may vary.
Description
Yam Gong is a leading Hong Kong poet who has worked as a laborer since adolescence and produced many of his poems during his work breaks. An outsider poet, he explores the synthesis of everyday life and philosophical inquiry. Using shifting tonal registers, he refashions borrowed language, including English song lyrics, Cantonese wordplay, Chinese folk stories and poems, news reports, prayers, and slang. This bilingual volume is the first book-length collection of Yam Gong's poems in English, drawing from his most important work over the past forty years. Moving a Stone: Selected Poems of Yam Gong is the fourth title in Zephyr's Hong Kong Atlas series, the only series in the world to showcase Hong Kong poetry in English.
Zephyr Press, 9781938890871, 120pp.
Publication Date: June 14, 2022
About the Author
James Shea is a poet, translator and essayist, whose poetry collection, The Lost Novel, was named a "Book of 2015" by "The Volta," and favorably reviewed in numerous publications. His earlier book, Star in the Eye, was selected for Poetry Society of America's New American Poets series and named as a Favorite Book of 2008 by the Chicago Sun-Times. His work has appeared in Boston Review, Colorado Review, Denver Quarterly, jubilat, The Iowa Review, and the Academy of American Poets' Poem-A-Day feature, and his translations have appeared in many publications as well. He teaches at Hong Kong Baptist University and received a 2020 NEA Literature Translation Fellowship to translate Yam Gong's Moving a Stone.