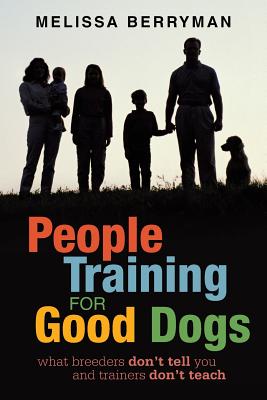 People Training for Good Dogs (Paperback)
What Breeders Don't Tell You and Trainers Don't Teach
iUniverse, 9781938908309, 252pp.
Publication Date: March 5, 2013
* Individual store prices may vary.
Description
Imagine your reaction if your child's friend grabs the remote control of the TV you are watching and changes the channel--and then later, does it again. We instantly recognize this behavior as wrong and correct it. When humans break dog rules and they correct us, we ignore our insubordinate actions and default to "blaming the dog."

Former animal officer Melissa Berryman has witnessed how devastating the effects society's entrenched beliefs regarding dog behavior and temperament can be--that good behavior can be purchased, that an owner's handling ability doesn't matter, that human behavior and the situations in which the dog is placed are insignificant. Berryman shows how analyzing situations and contexts can stop the cycle of preventable incidents.

Written with humor and compassion, People Training for Good Dogs offers insight into the impact that human behavior and understanding have on our relationships with dogs. By working with core canine social and behavioral drives, Berryman provides owners with sound techniques that focus on safety and can help protect their liability in today's world.
"This is the new Bible for all dog owners. ... It will truly help you have the best relationship with yours and all dogs "
--Katie Riopel, dog trainer and host of Katie K9