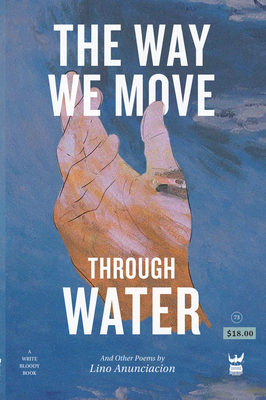 The Way We Move Through Water (Paperback)
Write Bloody Publishing, 9781938912900, 100pp.
Publication Date: September 14, 2018
* Individual store prices may vary.
Description
Lino Anunciacion's "The Way We Move Through Water" is layered and balanced with a dark beauty that readers will be haunted by long after putting this book down.

This debut poetry collection is a faulty navigation system that guides you through the unforgiving griefwater. These poems use serene, yet haunting imagery to tackle the legacy of our pasts and the lineages we owe our lives to. He uses his experiences in loss and trauma as a black boy in America to show how long this journey towards liberation and livelihood can be. He doesn't want you to forget the names of the things we've lost, the progress left to be made. Still, even though there is so much work to be done, Lino reminds us that the only way out is through. He respects his audience enough to know, that we already know how we hurt.

Lino's poetry sees us and meets us where we are: proximal to the pain. He isn't crafting or crawling into the coffin- Lino is beside us, tossing his best flowers onto it. His poetry sees us in our Sunday best when we're at our worst, and reminds us that we are still alive. With poems highlighting the sea, fresh flowers, birds, and the nature around us, this collection is very much alive, and enjoying this life with you, not in front of you, but next to you.