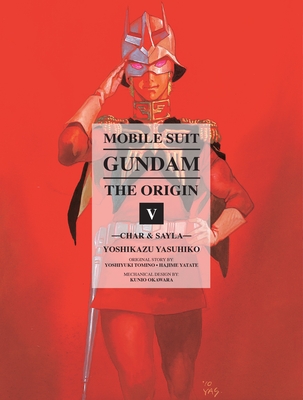 Mobile Suit Gundam: The Origin, Volume 5: Char & Sayla (Hardcover)
The Origin, Volume 5: Char & Sayla
Vertical, 9781939130198, 468pp.
Publication Date: March 25, 2014
Description
Years before the White Base landed on Earth, the seeds of war were planted in a space colony called Side-3. Here the Munzo Empire's great philosopher Chairman Zeon Deikun would prepare a declaration before an assembly of senators, but before finishing his speech would fall victim to a sudden attack on the parliament's dais. Almost instantly, on the streets, the masses have risen calling for independence and have set protests in front of Earth Federation headquarters on Side-3. The calls for Earthnoids to return to their planet eventually would push the Federation to take up arms hoping to combat these riots. The hostilities pit men versus tanks on the streets of this colony and appear to not be letting up. Meanwhile, Deikun's family, including his children Artesia and Casval, are soon taken into hiding by a Zeon loyalist - Ramba Ral.
About the Author
Hokkaido native Yoshikazu Yasuhiko (1947-) is a Japanese animator and manga artist. His career as a character designer has spanned over four decades, creating famed characters for such anime as Super Atragon, Brace Raideen, and the widely known Mobile Suit Gundam. Considered a pivotal player in mecha and sci-fi anime, Yasuhiko's characters, stories and illustrations are unmistakable in their style and serve as timeless examples as pioneers of manga and animation in Japan. Yasuhiko began his career as an animator in Osama Tezuka's Mushi Productions, and later on decided to go freelance to work for a number of animation productions for both film and television. In the late 70's, Yasuhiko would turn his attention to the world of comics, as he has since penned nearly two dozen titles since. In 1981 he was awarded the Nebula Award by the Japanese Sci-Fi Association.In 1990 his work Namuji won the Japan Comic Artist Association Grand PrizeAnd in 2000 he took the Japan Media Arts Award for Best Comic with his title A Revolutionary Dog.
Advertisement