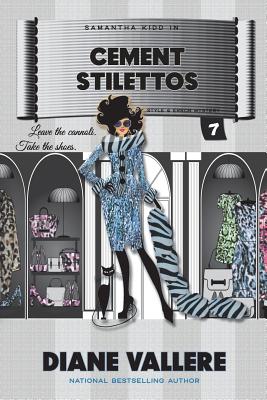 Cement Stilettos (Paperback)
A Samantha Kidd Style & Error Mystery
Polyester Press, 9781939197320, 232pp.
Publication Date: May 25, 2017
* Individual store prices may vary.
Description
From National Bestselling Author Diane Vallere
#7 in the humorous Samantha Kidd Mystery Series
When newly engaged amateur sleuth Samantha Kidd discovers the body of a mafia princess dead in fianc and shoe designer Nick Taylor's showroom, her questions are so numerous she'd need a bookie to keep track. The victim's ties to local organized crime are unexpected. Nick's apparent vow of silence makes Samantha question the vows in their future, and despite past promises, all bets are off. Wise guys and leopard ladies keep her busier than a consigliere during tax season, and if she can't keep her head above water, she'll end up sleeping with the fishes.
Books in the Humorous Samantha Kidd - Style & Error Mystery Series:
"Just Kidding" (short story)
#1 DESIGNER DIRTY LAUNDRY
#2 BUYER, BEWARE
#3 THE BRIM REAPER
#4 SOME LIKE IT HAUTE
#5 GRAND THEFT RETRO
#6 PEARLS GONE WILD
#7 CEMENT STILETTOS
Perfect for the beach, the bath, or the line outside of the fitting room.
(and way more fun than shopping for bathing suits under fluorescent lights.)
Get to know Samantha Kidd today