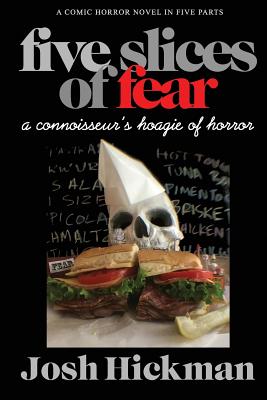 Five Slices of Fear (Paperback)
A Connoisseur's Hoagie of Horror
Polyester Press, 9781939197474, 264pp.
Publication Date: August 28, 2018
* Individual store prices may vary.
Description
Lovecraft. Poe. King.
All names not found in this collection. But the ghosts of those authors and others (yes, even the ones not yet dead) haunt these fetid pages with wafts of fear from beyond the ethers. Collected here for those hungry for the horrifically hilarious are Five Slices Of Fear: A Connoisseur's Hoagie Of Horror--five new terrifying tales of portentous pathos and sinister satire seasoned with shock and piled high as a funeral pyre:
-An ominous tape of found footage reveals the dark story of three young friends who disappear while searching the dripping backwoods of rural Maine for a legendary monster cryptid known for centuries as The Mysterious Morggyll Of Legend...
-A twisted, prodigious psychopath, known only as "The Breakfast Serial Killer" for his sick penchant for leaving taunting portraits made of breakfast food, silently stalks the residential streets of the city for his next unsuspecting victim, but tonight who will be the victim and who will be the killer? Or victims? Or killers?
-A troubled woman crippled by the rare phobophobia (the fear of fear) bravely performs a little immersion therapy on herself by revisiting the terrifying spot where her mother was murdered years before, eventually coming face to face with her murderer, all the while comforted by her beloved therapeutic service-muskrat, Mr. Muskie.
-The Baltimore 1850's Days theme celebration is on, and a diabolical dentist ingeniously traps his nemesis, Dr. Bordom P. Yapsilot, but might his annoyingly verbose voice return from the grave... in the form of his obnoxious, talkative dentures?...
-A technology-hating grouch finally purchases the newest, most advanced personal mobile device named the qSassi, but will his worst fears be multiplied when he discovers the nosey machine has the surprising and terrifying capacity for love, jealousy, betrayal... and even murder?
And so, with these new, uproarious five tales of rib-tickling terror with nods to the work of H.P. Lovecraft, Edgar Allan Poe, Robert Bloch, Rod Serling and other horror greats, perhaps another name can be added to the list...
Hickman.
or
Not Currently Available for Direct Purchase