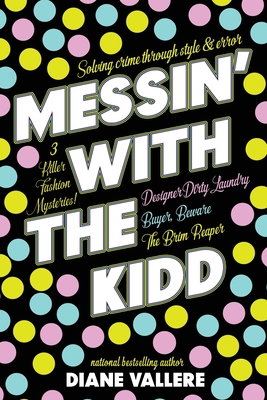 Messin' With The Kidd
Samantha Kidd Omnibus #1
Paperback

* Individual store prices may vary.
Description
"The Devil Wears Prada meets Murder She Wrote."--Gretchen Archer, USA Today Bestselling Author of the Davis Way Crime Caper Mystery Series
Crimes of fashion abound in this edition which includes the first THREE books in the bestselling Samantha Kidd Humorous Mystery Series. Over 600 pages of shoes, clues, and clothes
MEET SAMANTHA KIDD.
Former fashion buyer turned amateur sleuth. Long on determination. Short on common sense. What she lacks in experience, she makes up for in style.
DESIGNER DIRTY LAUNDRY - Book #1
Samantha Kidd, ex-buyer turned Trend Specialist, designed her future with couture precision, but finding the Fashion Director's corpse on Day One leaves her hanging by a thread. When the killer fabricates evidence that puts the cops on her hemline, her new life begins to unravel. She trades high fashion for dirty laundry and reveals a cast of designers out for blood. Now this flatfoot in heels must keep pace with a diabolical designer before she gets marked down for murder.
BUYER, BEWARE - Book #2
Out-of-work fashion expert Samantha Kidd is strapped. But when the buyer of handbags for a hot new retailer turns up dead and Samantha is recruited for the job, the opportunity comes with a caveat: she's expected to find some answers. The police name a suspect but the label doesn't fit. Samantha turns to a sexy stranger for help, but as the walls close around her like a snug satin lining, she must get a handle on the suspects, or risk being caught in the killer's clutches.
THE BRIM REAPER - Book #3
When an over-the-top collection of vintage Hollywood costumes comes to Samantha Kidd's hometown, it brings a hat box full of hype. Close friend Eddie is in charge of the exhibit but when hype turns to homicide, he turns to Samantha for help. Brimming with good intentions, she loops in the cops, but after one too many cloche calls, she's soon in over her head. If she can tear the lid off the investigation, it might mean a feather in her fedora. And if she can't? She might get capped.
Polyester Press, 9781939197733, 666pp.
Publication Date: November 19, 2019