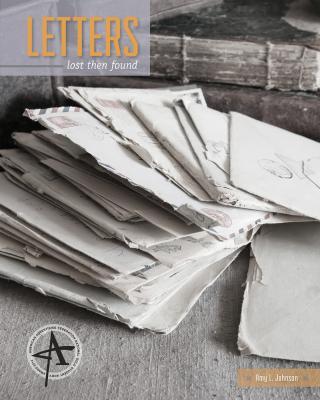 LETTERS lost then found (Paperback)
Splattered Ink Press, 9781939294418, 212pp.
Publication Date: July 28, 2016
* Individual store prices may vary.
Description
You are about to eavesdrop on conversations between two brothers, ages 19 and 30, during World War II. Prepare to journey within their family life and experience their frustration, happiness, and sadness. These two brothers have a story to tell.

"LETTERS lost then found" was designed to engage you in a number of different ways. The letters themselves can be read sequentially from cover to cover, but there are also brief excerpts next to each letter that form a sort of poetic series when read one after the other. Freddie had served in the China Burma India Theatre, often referred to as the war's forgotten theatre, and the 'Day in History' section on each page gives you a glimpse of what was happening in World War II at the time each letter was written. Then a ticker tape, reminiscent of the Western Union Telegram, runs across the bottom of the pages, explaining why the China Burma India Theatre was such an important part of the larger conflict.
About the Author
A Grand Rapids, MI native, Amy L. Johnson is a student of life striving to do the next right (or left) thing depending on what inspires her. Amy's BFA in Graphic Design favors her being curious, creative, considerate, and clever. She loves a good laugh and generally believes that dogs are better than people. This is her first published book.
Praise For LETTERS lost then found…
"I see quite a lot of these collections – but this one stands out."
~Tom Brokaw, author of The Greatest Generation

"Treasure Amy Johnson for wading through bushels of yellowed documents, and sculpting something wondrous and elegiac from what others might have relegated to the trash. It stands as a tribute not only to her ancestors, but to anyone who fought or endured a battle, and perhaps most significantly, the arguably fading importance of storytelling. Her book will invite trembling hands to do nothing less than trace the penned letters with their own fingertips, and in the process, be transported to a bittersweet time and space where words competed with war to inhabit the deepest
chambers of the heart."
~Tom Rademacher, long-time newspaper columnist for The Grand Rapids Press in Michigan

I have long been an avid history buff, especially engaged by all things WWII. Yet just when I thought I'd read the gamut, I happened on "LETTERS lost then found." Author Amy Johnson's treasure trove took me into a theater of the war -- China-Burma-India -- with which I was largely unfamiliar. But this book is not your standard recitation about Flying Fortresses, bombing missions and strategic sorties. "LETTERS lost then found" is a snapshot (actually many of them) into the lives of two brothers -- Willie and Fred -- and their actual correspondence throughout the war until... Yes, until. It engages you in the poetry of family and day-to-day life on the Homefront, of the mundane slogging of detailed military preparation, and especially in the long-lost beauty of actual handwritten letters. Ms. Johnson's artful design pulls it all together in a chronologically eloquent presentation that is unlike any other historical reference I've seen. This book captivates with a slow release. It's worth your time. And it's worthy of a place on your library shelf next to Tom Brokaw's "The Greatest Generation." ~ David S. Kagan


The intuitive and intentional design of Letters: Lost Then Found took me on a visually authentic journey in which I felt truly immersed in the time, place, and emotions of Fred and Willie, two brothers with very different lives and responsibilities trying their best to keep the family ties intact while separated by war.

Through the ability to see, on each page, Fred's optimistic, honest, and free-spirited handwriting contrasted by Willie's controlled and careful typewritten words, the true nature of their younger and older brother relationship is revealed, all the while surrounded by the moments and monuments of each one's life at the time.

The ticker-tape delivery of the more historical account of the war that runs along the bottom of each page adds a third important contrast, one that disconnects from the personal voices we hear in the letters and gives us the facts with the cold, detached voice of the radio news.

These aesthetic contrasts added a richness and layering to the story that drew me in deeply to the experience that Fred, Willie, and every person endured during that time in our history. Without the thoughtfulness of the design, this book could have easily been just another World War II account, but because of its beautiful and heartbreakingly real approach, it comes to life in a way no other book has.
~ Angela Dow, Professor of Graphic Design at Kendall College of Art & Design
or
Not Currently Available for Direct Purchase