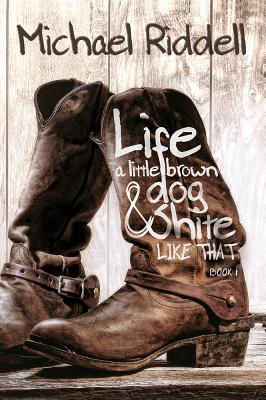 Life, A Little Brown Dog & Shite Like That (Paperback)
Boutique of Quality Books, 9781939371348, 290pp.
Publication Date: November 1, 2014
* Individual store prices may vary.
Description
The view from his daughter's couch was nothing short of humbling. The couch was his bed, his shortcomings, his failure. At the age of forty-five, Michael Riddell found himself bereft of career, marriage, money, and wondering why. He had always done as expected: growing up in middle Australia, he married his college sweetheart, joined the family business, and chased his career with everything he had. Surrendering and sacrificing his home life, every step he took was in the name of success. But now, wallowing in a depression full of remorse, self-pity, and guilt, a chance visit to Melinda's Out There Shop starts Michael on the road to redemption---his soul's path to renewal. Michael Riddell suffered more than a mid-life crisis. Call it a complete life revision.
About the Author
Michael Riddell was born in Sydney, Australia, and after earning a degree in economics, married his college sweetheart and joined the family hotel business. Eventually leaving the hospitality industry behind, Michael found a career in cotton farming---a career that would ultimately leave him financially bankrupt and end his twenty-five year marriage. Michael has had fifteen dogs, thirteen cars, six nicknames, five cats, two children, and three stepchildren. When not working in his new field of gas pipelines, she shows a willing aptitude for breaking things---machinery, motor bikes, bank balances, and hearts. He likes little brown dogs and XXXX beer and is inconsolable when his football team loses. Michael now lives in Northern New South Wales, Australia, with his wife and soulmate, Melinda.
or
Not Currently Available for Direct Purchase