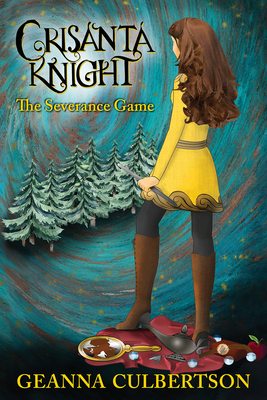 Crisanta Knight
The Severance Game
Paperback

* Individual store prices may vary.
Description
Great story with strong characters that are learning to use their inner strength as well as their fighting skills. I highly recommend the Chrisanta Knight books for any girl young or old. They are good clean fun!

A lot of questions ran through my head as I desperately clung to the roof of a magic train crossing over a gaping canyon. Like: How did I get here? What could I have done to avoid this fate? And, did I remember to shave my underarms before coming on this quest?

But even after taking on a witch in a gingerbread house, bloodthirsty actors, and a whole mess of magic hunters and other fairytale shenanigans, the biggest, most pressing question pulsing through my brain as my fingers started to slip and my enemy bore down on me was this: Could I really trust the person whose life I'd ruined to keep me from falling?

With antagonists closing in, inner demons threatening to consume me, and vivid nightmares chewing up my soul every time I shut my eyes, I was running out of options. I knew the moment to decide whether or not I could truly trust any of my friends was fast approaching. But my head and heart were stuck. For just like the precarious position I now found myself in, the pain of holding onto the path I'd chosen thus far was outmatched only by the worry I had over (gulp) letting it go…

The Crisanta Knight series - Book 1: Protagonist Bound; Book 2 - The Severance Game; Book 3 - Inherent Fate; Book 4 - The Liar, The Witch, & The Wormhole; Book 5 (to be released in April of 2019 - To Death & Back
BQB Publishing, 9781939371577, 474pp.
Publication Date: December 1, 2016
About the Author
Geanna Culbertson is the award-winning author of The Crisanta Knight Series. The series follows the kids and siblings of fairytale characters, all of whom live in a magical world called "Book," where citizens train to be the next generation of main characters in stories. The majority of this coming-of-age series is told from the empowering, sassy perspective of Cinderella's daughter---Crisanta Knight.

Though loaded with exciting, magical elements and action-adventure, the core of this series is not the fantastic, but the human. Geanna set out to write a story that readers of all ages (8-80 as she says) can connect with and thus learn from and grow with. This highly character and voice driven story focuses on personal development and strong relationships, and deals with many themes such as: change, the power of choices, friendship, trust, potential, self-acceptance, and taking fate into your own hands. It is a YA and Middle Grade friendly series that will make you smile, and take you on an emotional ride of hilarity, introspection, danger, drama, and deliciousness.

Culbertson is a proud alumna of the University of Southern California where she earned her B.A. in Public Relations and triple minor degrees in Marketing, Cinematic Arts, and Critical Approaches to Leadership. She is a part of only 1.3% of her graduating class to earn the double distinction of Renaissance Scholar and Discovery Scholar. Her Discovery Scholar thesis "Beauty & the Badass: Origins of the Hero-Princess Archetype" earned her acclaim in the School of Cinematic Arts and helped her fuel her female protagonist writing passions.

Geanna is excited about continuing to expand her rich magical, and morally-driven content with the Crisanta Knight world, and other series and standalone books on the way!

Instagram/Twitter/Pinterest: @gculbert14

#crisantaknight #geannaculbertson #crisantaknightseries

Facebook: @CrisantaKnightSeries
or
Not Currently Available for Direct Purchase