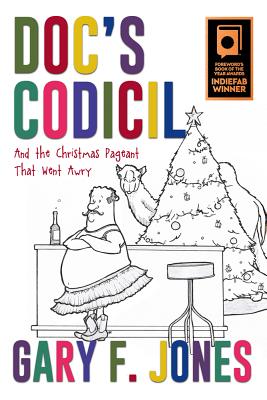 Doc's Codicil
And the Christmas Pageant That Went Awry
Paperback

* Individual store prices may vary.
Description
When Wisconsin veterinarian Doc dies, his family learns that to inherit his fortune, they must decipher the cryptic codicil he added to his will---"Take Doofus squirrel-fishing"---and they can only do that by talking to Doc's friends, reading the memoir Doc wrote of a Christmas season decades earlier, searching through Doc's correspondence, and discovering clues around them. Humor abounds as this mismatched lot tries to find time in their hectic lives to work together to solve the puzzle. In the end, will they realize that fortune comes in many guises? "Doc's Codicil" is a mystery told with abundant humor. It tells the story of a veterinarian who teaches his heirs a lesson from the grave.
BQB Publishing, 9781939371836, 344pp.
Publication Date: October 1, 2015
About the Author
Gary Jones says his life has been a testament to questionable decisions and lost opportunities. However, his wife of many years says she knows of nothing in the record to justify such unfettered optimism. Gary is one of the last generation of rural veterinarians who remembers working with cows that had names and personalities and dairymen who worked in the barn with their families. He's also a part of the first wave of Baby Boomers, crusty codgers who are writing their wills and grousing about kids who can be damned condescending at times. He practiced bovine medicine in rural Wisconsin for nineteen years, returned to graduate school at the University of Minnesota, earned a PhD is microbiology, and spent the next nineteen years working on the development of bovine and swine vaccines.


or
Not Currently Available for Direct Purchase