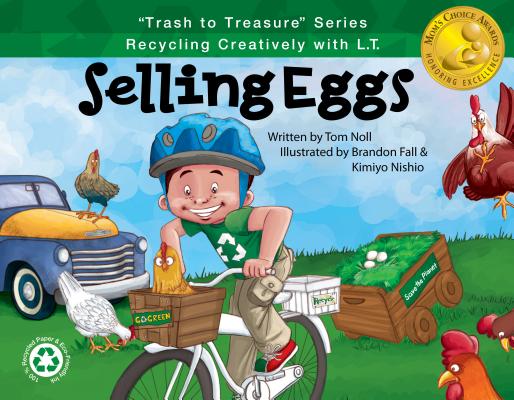 Selling Eggs (Hardcover)
Recycling Creatively with L.T. (Trash to Treasure Series: Recycling Creatively with L.T. #2)
Green Kids Press, 9781939377586, 40pp.
Publication Date: March 15, 2015
* Individual store prices may vary.
Description
ABOUT THE SERIES:
* Gold Mom's Choice Award(R) Winners for Children's Picture Books- "Selling Eggs" - 2016
L.T. has become THE NEW RECYCLING HERO The series is about his adventures in recycling creatively with its' colorful, whimsical illustrations, nostalgic look and inspiring messages reminding us all that... We Still Need to Recycle, Go Green, Be Environmentally Friendly and Help Save Our Planet...for our future generations. L.T. will inspire and empower young ones; by helping them to understand that everyday tasks like reducing waste, reusing, re-purposing things and recycling has a real positive effect in our lives and in the world.
This educational series is non-fiction and is based on events from the author's own childhood. It will inspire young readers to rethink, reinvent, recreate, reuse and recycle in ways that are both practical and fun
"Selling Eggs"
L.T. is excited about the chickens his family has ordered. He can't wait to start selling eggs for pocket money But when twelve fuzzy colorful and extremely noisy chicks arrive, it's clear that any pocket money will have to wait. Can L.T. use his creative recycling ideas to house and care for the chicks, and when the time comes, transport their eggs to town?
Both Books are great looking and have a great feel to them in hardcover 11 x 8 1/2 books on 100% Recycled Paper, Soy Ink and Super Matte Non-Scuff Cover. They include printed educational end sheets and are for ages 4-10. Each book retails for $17.99.