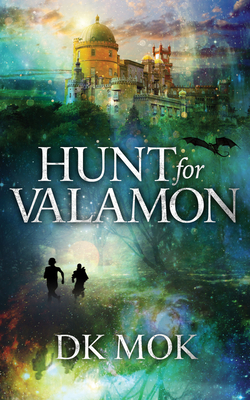 Hunt for Valamon
Paperback

* Individual store prices may vary.
Description
When Prince Valamon is impossibly taken from the heart of Algaris Castle, the only clue as to motive or culprit is the use of unknown sorcery. Reclusive cleric Seris is happily tending to his book-infested temple until he finds himself recruited to the politically compromised rescue mission. His sole companion on the journey is Elhan, a cheerfully disturbed vagrant girl with terrifying combat skills and her own enigmatic reasons for seeking the prince. Venturing into the wild, unconquered lands, Seris has no fighting prowess, no survival skills, and no charisma, as Elhan keeps pointing out. Armed only with a stubborn streak and creative diplomacy, he must find a way to survive outlaw towns, enchanted tropical isles, and incendiary masquerades, all without breaking his vow to do no harm. Chasing rumours of rising warlords and the return of the vanished sorcerers, Seris and Elhan soon discover a web of treachery and long-buried secrets that go far beyond a kidnapped prince.
Praise For Hunt for Valamon…
"With a snappy style, and a cast of characters that flips every fantasy archetype on its head, DK Mok's latest book simply rocks." — Darby Karchut, author of The Stag Lord and The Hound at the Gate
"A fast paced epic fantasy tale that manages to portray a number of genre tropes in a fresh and exciting way. The story delivers a tale of adventure and mayhem, played out by characters that are dynamic and varied, ensuring that the reader never gets bored. A good read whether you're a fantasy fan or not." — SFBook Reviews
"An original, fast paced and fascinating tale that kept me riveted from start to finish." — Smash Dragons
"A hilarious and endearing fantasy to read. Mok blends humor and gravity together magnificently." — Fantasy Book Review
"A fun read that offered quite a few surprises. Hunt for Valamon is refreshing and unique, highly recommended for fantasy readers looking for an adventurous journey." — The BiblioSanctum
"In every aspect of this book, Mok brings something new. Highly recommended to anyone who loves fantasy." — Between Once Upon a Time and Ever After
"A fun read, with plenty of humorous moments, and some charmingly quirky characters." — Locus Magazine
Spence City, 9781939392268, 400pp.
Publication Date: April 7, 2015
About the Author
DK Mok is a fantasy and science fiction author whose novels include Squid's Grief, Hunt for Valamon and The Other Tree. DK has been shortlisted for three Aurealis Awards, a Ditmar, and a Washington Science Fiction Association Small Press Award. DK graduated from UNSW with a degree in Psychology, pursuing her interests in both social justice and scientist humour. DK lives in Sydney, Australia, and her favourite fossil deposit is the Burgess Shale.
or
Not Currently Available for Direct Purchase