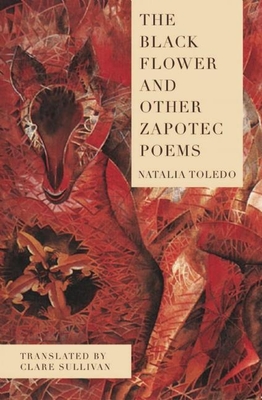 The Black Flower and Other Zapotec Poems (Paperback)
Phoneme Media, 9781939419460, 172pp.
Publication Date: November 10, 2015
* Individual store prices may vary.
Description
Natalia Toledo's The Black Flower and Other Zapotec Poems, with an award-winning translation by Clare Sullivan, describes contemporary Isthmus Zapotec life in lush, sensual detail. In Toledo's poems of love and loss the world's population turns into fish, death is a cricket, and naked women are made of wet magma. The Black Flower won the Nezhualcoyotl Prize, Mexico's highest honor for indigenous-language literature, in 2004. FINALIST FOR THE 2016 NATIONAL TRANSLATION AWARD LONGLISTED FOR THE 2016 BEST TRANSLATED BOOK AWARD

About the Author
Natalia Toledo has written four books of poetry and two of prose, all appearing in bilingual Isthmus Zapotec-Spanish editions. In 2004 she won the Nezahualcoyotl Prize, Mexico's most prestigious prize for indigenous-language literature, for her book The Black Flower and Other Zapotec Poems. She has read her poetry around the world. Her work as a jewelry and clothing designer and chef reiterates the lively imagery of her poetry. She lives in Mexico. Clare Sullivan is Associate Professor of Spanish at the University of Louisville and Director of their Graduate Certificate in Translation. She has published translations of Argentina's Alicia Kozameh and Mexico's Cecilia Urbina. She received an NEA Translation Grant in 2010 to work with the poetry of Natalia Toledo. She lives in Louisville, KY.