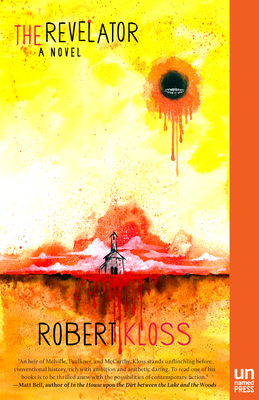 The Revelator
Paperback

* Individual store prices may vary.
Description
Manifest Destiny drives American expansion westward, building an early 19th-century society with genocidal brutality. This is the context that frames The Revelator's protagonist: a young orphan named Joseph. Reared on nights spent carousing with drunks and con men, the young protagonist dreams of something more. He begins to preach. Soon he takes a young wife, to the horror of her father, a butcher. They depart for the wilderness where Joseph's visions, haunted by a dark Beast, take hold of his life. Husband and wife nearly die of exposure, and upon their return, Joseph begins to build his congregation, built on the discovery of the golden plates that deliver the Almighty's message. As his congregation grows, Joseph builds a settlement, takes multiple wives, and negotiates multiple betrayals and intrigues with his followers, his wife, and even his suspicious and distant son. Persecuted by society at large, and on the U.S. government's watch list, Joseph takes his people further and further west to meet their destiny. Written in the second person, author Robert Kloss's prophetic voice demonstrates the macabre and gruesome consequences of Manifest Destiny and the conflicted motivations behind the creation of a religion that boasts 15 million members today.

Praise For The Revelator…
"A dark, bold novel using language and imagery that evoke Cormac McCarthy on an absinthe jag.""Kirkus Reviews"

"I'd be hard pressed to think of a young novelist I admire more than Robert Kloss. An heir of Melville, Faulkner, and McCarthy, Kloss stands unflinching before conventional history, rich with ambition and aesthetic daring. To read one of his books is to be thrilled anew with the possibilities of contemporary fiction." Matt Bell, author of "In the House upon the Dirt between the Lake and the Woods"

"The Revelator" carries traces of Carson McCullers, Flannery O'Connor, and the rattling bones of Bill Faulkner. I'm serious. I felt transported mind, body and soul to some weird liminal space where a prophet can emerge from the dirt and speed of things, from the darkness in us all brought forth by a ready-made zealot who can turn on a dime. Read it and weep because this novel turns us inside out in the best way." Lidia Yuknavitch, author of "The Small Backs of Children" and "The Chronology of Water"

"The Revelator" leads us through the life and times and beyond of its title character, from orphan to prodigal to itinerant preacher to prophet (and purveyor of dirty jokes), in a narrative that reads like the gospel of an alternate universe, but as awash in fury and carnage as our own." Eugene Marten, author of "Layman's Report"

"Robert Kloss writes with the passion of a young Cormac McCarthy, fearless in both scope and the possibilities of language, and blessed with an innate ability to parse the light from any darkness. It's rare such an eagle eye emerges among Americans. He should be savored."Blake Butler, author of "Three Hundred Million"

"Robert Kloss is quickly building a blazing reputation as a literary perfect weapon: He is a sentence-architect like Gary Lutz, yet at the same time, he s also able to spin intimate, oddball yarns in the vein of William Gass and Shelley Jackson. "The Revelator" showcases these unique skills. Go all in on Kloss now before he s buffing his Pulitzer." Joshua Mohr, author of "All This Life"
Unnamed Press, 9781939419507, 256pp.
Publication Date: September 15, 2015
About the Author
Robert Kloss is the author of one previous novel, "The Alligators of Abraham"; a novella, "How the Days of Love and Diphtheria"; and the hybrid genre work, "The Desert Places," coauthored with Amber Sparks and illustrated by Matt Kish. He lives in Pittsburgh.
or
Not Currently Available for Direct Purchase