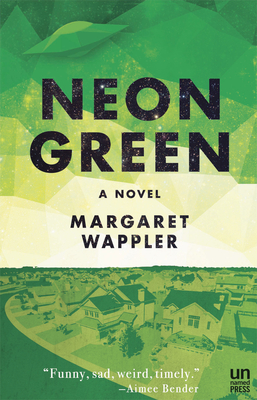 Neon Green
Paperback

* Individual store prices may vary.
Description
It's the summer of 1994 in suburban Chicago: Forrest Gump is still in theaters, teens are reeling from the recent death of Kurt Cobain, and you can enter a sweepstakes for a spaceship from Jupiter to land in your backyard. Welcome to Margaret Wappler's slightly altered 90s. Everything's pretty much the way you remember it, except for the aliens. When a flying saucer lands in the Allens' backyard, family patriarch and environmental activist Ernest is up in arms. According to the company facilitating the visits, the spaceship is 100 percent non-toxic, but as Ernest's panic increases, so do his questions: What are the effects of longterm exposure to the saucer and why is it really here? The family starts logging the spaceship's daily fits and starts but it doesn't get them any closer to figuring out the spaceship's comically erratic behavior. Ernest's wife Cynthia and their children, Alison and Gabe, are less concerned with the saucer, and more worried about their father's growing paranoia (not to mention their mundane, suburban existences). Set before the arrival of the internet, Neon Green will stun, unnerve, and charm readers with its loving depiction of a suburban family living on the cusp of the future.
Unnamed Press, 9781939419712, 246pp.
Publication Date: July 26, 2016
About the Author
Margaret Wappler has written about the arts and pop culture for the Los Angeles Times, Rolling Stone, Elle, The Believer, The Village Voice, and several other publications. Her work has appeared in Black Clock, Public Fiction, and the anthology Joyland Retro. Neon Green is her first novel. She lives in Los Angeles.