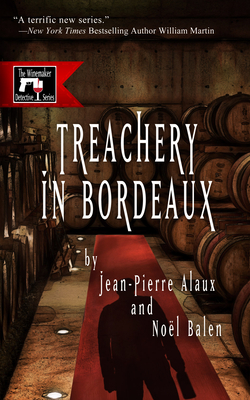 Treachery in Bordeaux (Winemaker Detective Novels) (Paperback)
Le French Book (NY), 9781939474025, 144pp.
Publication Date: May 29, 2014
* Individual store prices may vary.
Description
In modern-day Bordeaux, there are few wine estates still within the city limits. The prestigious grand cru Moniales Haut-Brion is one of them. When some barrels turn, world-renowned winemaker turned gentleman detective Benjamin Cooker starts asking questions. Is it negligence or sabotage? Who would want to target this esteemed vintner? Cooker and his assistant Virgile Lanssien search the city and the vineyards for answers, giving readers and inside view of this famous wine region. The start of a 22-book wine-plus-crime mystery series that delves into the underworld of a global luxury industry. The world of wine is no more respectable than the world of finance. There's money, deceit, death, crime, inheritance, jealousy all the ingredients needed to distill a fine detective series. The series is a hit on TV in France.
About the Author
Authors:

Jean-Pierre Alaux is a magazine, radio and television journalist when he is not writing novels in southwestern France. He is a genuine wine and food lover, and won the Antonin Careme prize for his cookbook La Truffe sur le Souffle, which he wrote with the chef Alexis Pelissou. He is the grandson of a winemaker and exhibits a real passion for wine and winemaking. For him, there is no greater common denominator than wine.

Coauthor of the Winemaker Detective series, Noel Balen lives in Paris, where he shares his time between writing, making records, and lecturing on music. He plays bass, is a music critic and has authored a number of books about musicians in addition to his novel and short-story writing.

Translator:

Anne Trager has lived in France for over a quarter of a century, working in translation, publishing and communications. In 2011, she woke up one morning and said, I just can t stand it anymore. There are way too many good books being written in France not reaching a broader audience. That s when she founded Le French Book to translate some of those books into English. The company s motto is If we love it, we translate it, and Anne loves crime fiction, mysteries and detective novels--and wine."
or
Not Currently Available for Direct Purchase