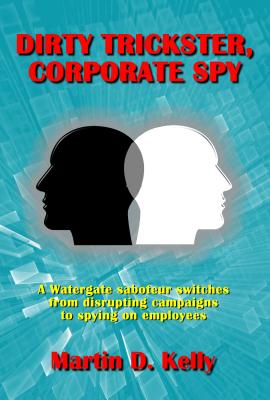 Dirty Trickster, Corporate Spy
A Watergate Saboteur Switches from Disrupting Campaigns to Spying on Employees
Paperback

* Individual store prices may vary.
Description
Not until Dirty Trickster, Corporate Spy does a memoir exist by one of the principal Watergate saboteurs-provacateurs that exposes the full extent of the insalubrious side of political negative campaigning. And that is not all: After Watergate, Kelly became a corporate security consultant specializing in eavesdropping detection by locating clandestine listening devices for clients such as Frank Sinatra, Dean Martin, Bob Hope, Ferdinand Marcos, and for companies like IBM, the Miami Dolphins, the U.S. Navy and even suspected drug dealers and the Mafia.

During President Nixon's second term when the Watergate scandal erupted, Kelly teamed with Donald Segretti in a wild series of underhanded capers that created havoc in the Democratic presidential primaries. Kelly and Segretti turned a fundraising dinner for front-runner Senator Ed Muskie at the Washington Hilton into absolute chaos; hired a University of Miami coed to strip naked and parade before Muskie's hotel; released two mice and a bird that threw a Muskie press conference into total confusion; organized fake luncheons, fake press releases, and other unscrupulous acts. The aim of the Nixon White House and Committee to Reelect the President was for the dirty tricksters to sow discontent among the Democratic primary candidates so they would blame each other for the dirty tricks, making it more difficult for them to unite in the general election against Nixon. The author was one of only three witnesses who testified specifically about dirty tricks before the Senate Watergate Committee.
Initial chapters reveal how dirty tricks were planned and executed, how Kelly dealt with special prosecutors, investigators, Watergate Judge John Sirica, the FBI, an inebriated Senator Ted Kennedy, the seven Senators on the Senate Watergate Committee, Bernstein and Woodward, Lesley Stahl and others in the media. Mid chapters expose inside secrets on successful tactics for candidates seeking public office and for those climbing the rocky steps of party politics. In final chapters, Kelly unveils the widespread corporate spying that is going on in America to this day, such as undercover agents and mystery shoppers spying on employees, the tactics of polygraph examiners and interrogators, and explosive examples about Kelly's international work as a detector of hidden bugs and taps. In Dirty Trickster, Corporate Spy, Kelly names names and holds back nothing.
Strategic Media Press, 9781939521712, 410pp.
Publication Date: August 1, 2018
or
Not Currently Available for Direct Purchase