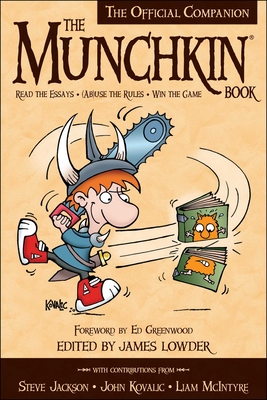 The Munchkin Book
The Official Companion - Read the Essays * (Ab)Use the Rules * Win the Game
Paperback

* Individual store prices may vary.
Description

With 18 exclusive Munchkin(R) game rules By gently - and sometimes not so gently - mocking the fantasy dungeon crawl and the sacred cows of pop culture, the Munchkin card game has stabbed and sneaked and snickered a path to the pinnacle of success. Along the way, it has sold millions of copies, been translated around the world, and spawned more than two dozen sequels and supplements. More fun than a Chainsaw of Bloody Dismemberment and more useful than a Chicken on Your Head, The Munchkin Book is a lighthearted and suitably snarky celebration of all things near and dear to the munchkin heart, featuring exclusive content from: Munchkin's designer and Steve Jackson Games president Steve Jackson
Munchkin's signature artist John Kovalic (creator of web comic Dork Tower)
Steve Jackson Games' "Munchkin Czar" Andrew Hackard
CEO of Steve Jackson Games Phil Reed The Munchkin Book also includes a foreword by New York Times bestselling author and Forgotten Realms creator Ed Greenwood, an introduction by editor James Lowder, and contributions from notable mavens of geek culture, including: Andrew Zimmerman Jones - David M. Ewalt - Jennifer Steen - Joseph Scrimshaw - Randy Scheunemann - Jaym Gates - Dave Banks - Matt Forbeck - Christian Lindke - Bonnie Burton - Colm Lundberg - Liam McIntyre
Smart Pop, 9781939529152, 216pp.
Publication Date: February 23, 2016
About the Author
James Lowder has worked extensively on both sides of the editorial blotter. His bestselling, widely translated dark fantasy novels include Knight of the Black Rose and Prince of Lies, and his short fiction has appeared in such anthologies as Shadows Over Baker Street and The Repentant. As an editor he's helmed over a dozen anthologies, including Curse of the Full Moon and the recent Smart Pop collection Triumph of the Walking Dead, and has directed book lines or series with subjects ranging from Arthurian Britain to zombies. His nonfiction writing on film and comics has seen print in Amazing Stories, Sci-Fi Universe, and the Smart Pop collections King Kong Is Back! and The Unauthorized X-Men.