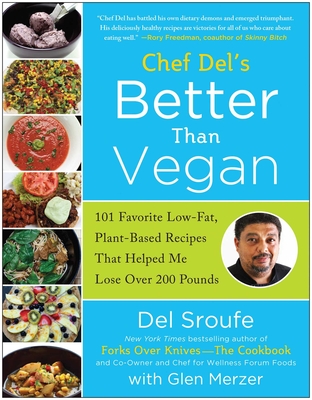 Better Than Vegan
101 Favorite Low-Fat, Plant-Based Recipes That Helped Me Lose Over 200 Pounds
Paperback

* Individual store prices may vary.
Description
Eating healthy just got a whole lot easier.

The science is very clear. A whole-foods, plant-based diet is the healthiest possible way to eat—but veganism itself doesn't mean health, as Chef Del Sroufe, author of the New York Times bestseller Forks Over Knives—The Cookbook, knows better than anyone. Sroufe managed to reach 475 pounds while eating a vegan diet rich in pastries, peanut butter, and potato chips. After converting to a vegan diet with minimal processed foods, sugars and added oils, he lost more than 240 pounds without giving up great food.

In Better than Vegan, Sroufe provides more than a hundred recipes that prove that the healthiest diet can also be the most delicious. Included in Better than Vegan are dishes such as:

• Portobello Wraps with Spicy Asian Slaw
• Gnocchi
• Three Sisters Enchiladas
• Lemon Berry Sorbet

In Better Than Vegan, Sroufe tells his remarkable personal journey of how he went on to lose hundreds of pounds on a healthy vegan diet and then shares the kinds of meals (with no oil and low in fat and sugar) that restored him to health.

With photographs by Robert Metzger and coauthored by Mad Cowboy coauthor Glen Merzer, Better Than Vegan offers healthy and professional cooking tips with nutritional advice to help you achieve the optimal vegan diet.
Praise For Better Than Vegan: 101 Favorite Low-Fat, Plant-Based Recipes That Helped Me Lose Over 200 Pounds…
"Better Than Vegan is the Holy Grail of human diets. Read, learn, and thrive."
—Howard Lyman, author, Mad Cowboy and No More Bull!

"Chef Del has battled his own dietary demons and emerged triumphant. His deliciously healthy recipes are victories for all of us who care about eating well."
—Rory Freedman, co-author, Skinny Bitch

"Chef Del has just expanded your repertoire of healthy, hearty, delicious dishes. His creative instructions on cooking without animals or oils will move you quickly along to a better life."
—Dr. John McDougall, MD, and Mary McDougall, creators of the McDougall Program, and bestselling authors of The Starch Solution

"The key to achieving optimum health is getting the right food onto your plate. Better Than Vegan could help you do that!"
—Alona Pulde, MD and Matthew Lederman, MD, co-founders of Transition To Health: Medical, Nutrition, and Wellness Center

"After Chef Del offers his very relatable, fascinating story of struggle with his weight, he valiantly swoops in with the ultimate solution -- a low fat, whole food, plant-based diet. I highly recommend this book as you will fall in love both with the magnificent and healthy recipes as well as their charming creator."
—Julieanna Hever, MS, RD, CPT, author of The Complete Idiot's Guide to Plant-Based Nutrition and host of What Would Julieanna Do?

"As Chef Del Sroufe points out, health doesn't come from a 'vegan' diet, it comes from a 'whole-food, plant-based' diet. This is a vegan cookbook that I can wholeheartedly endorse for my patients."
—Dr. Heather Shenkman, MD FACC, interventional cardiologist
BenBella Books, 9781939529428, 304pp.
Publication Date: December 3, 2013
About the Author
Del Sroufe's passion for cooking began at eight years old and never faded. In 1989 he went to work for one of Columbus' premier vegetarian restaurants, the King Avenue Coffeehouse, where he honed his craft as a baker and chef. Sroufe opened Del's Bread, a vegan bakery, before beginning vegan meal delivery service in 2001, serving eclectic plant-based cuisine to Columbus residents. During this time, he developed what became a very popular cooking class series, sharing many of the delicious recipes he had created over the years.

In 2006, Sroufe joined Wellness Forum Foods as co-owner and chef, where he continued the tradition of delivering great tasting, plant-based meals to clients in Columbus as well as throughout the continental U.S. Sroufe also joined The Wellness Forum as a member where, after a lifetime of yo-yo dieting, he has lost over 200 pounds on a low fat, plant-based diet. He continues to teach cooking classes at local venues like Whole Foods, Community Recreation Centers, and The Wellness Forum. Sroufe is the author of Forks Over Knives—The Cookbook, a vegan cookbook companion to the acclaimed documentary Forks Over Knives.

Glen Merzer is coauthor with Pamela A. Popper, PhD, ND, of Food Over Medicine, with Howard Lyman of Mad Cowboy, with Howard Lyman and Joanna Samorow-Merzer of No More Bull!, and with Chef AJ of Unprocessed. Merzer is also a playwright and screenwriter, having most recently completed a screenplay from Mad Cowboy. He has been a vegetarian for 40 years and a vegan for the last 20.