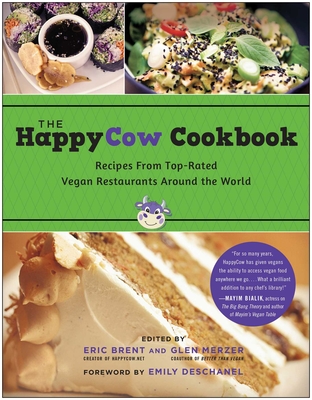 The HappyCow Cookbook
Recipes from Top-Rated Vegan Restaurants around the World
Paperback

* Individual store prices may vary.
Description
Sample amazing vegan dishes from around the world—right in your own kitchen.

HappyCow.com helps millions of people everywhere find delicious vegan and vegetarian cuisine across the globe through the site's extensive database of restaurants and reviews. Now, Eric Brent, creator of HappyCow, and Glen Merzer, coauthor of Better Than Vegan and Food Over Medicine, bring the HappyCow concept home with a collection of nutritious and delicious dishes from top-rated vegan restaurants around the world.

Featuring recipes from many of the world's finest and most popular vegan restaurants, The HappyCow Cookbook shares the history and evolution of each restaurant, provides Q&As with the owners, and teaches you how to make some of their mouthwatering dishes.

With entrées like Blackbird Pizzeria's Nacho Pizza, desserts such as Sublime Restaurant's Apple Crumble Pie à la Mode, and drinks such as El Piano's Granada Chai tea, HappyCow fans and newcomers alike will enjoy a selection of international gourmet vegan fare from the comfort of their own kitchens. The HappyCow Cookbook is a must-have guide for vegetarians, vegans, and those who simply want to experience some of the most delicious and healthy food on the planet.
Praise For The HappyCow Cookbook: Recipes from Top-Rated Vegan Restaurants around the World…
"For so many years, HappyCow has given vegans the ability to access vegan food anywhere we go, which is crucial to the vegan lifestyle and sense of belonging. This book takes that mission to the next level, bringing the fantastic food we seek out into our homes and kitchens. What a brilliant addition to any chef's library!"
—Mayim Bialik, actress on The Big Bang Theory and author of Mayim's Vegan Table

"These chefs are the go-to connoisseurs of great vegan food, and now they're making it possible for us to eat at home what we would have had to travel the globe to find! These dishes are going to make you so happy!"
—Kathy Freston, New York Times bestselling author of Veganist, The Lean, and Quantum Wellness

"HappyCow, the amazing website and indispensable app, has directed me towards delicious vegan cuisine in my travels and even at home for years. I highly recommend this gorgeous, inspiring collection for anyone who appreciates the art of cooking and/or just enjoys eating delicious, health-promoting food."
—Julieanna Hever, MS, RD, CPT, author of The Complete Idiot's Guide to Plant-Based Nutrition and host of Veria's wellness talk show, What Would Julieanna Do?

"The Happycow Cookbook is the next best thing to sitting at the table of the best chefs in the world."
—Howard F. Lyman, author of Mad Cowboy

"Well done, HappyCow! Here's your chance to enjoy delectable, health-promoting, plant-based cuisine from some of the finest restaurants in the world—without leaving home."
—J. Morris Hicks, author of Healthy Eating, Healthy World and international blogger at hpjmh.com
BenBella Books, 9781939529664, 296pp.
Publication Date: June 3, 2014
About the Author
Eric Brent, founder and director of HappyCow, first had the idea to create an online guide to vegan restaurants in the late 90s. As a 20-plus year vegan who has traveled to more than 50 countries, Brent knows firsthand how difficult it can be to find "safe" food upon arriving in a new city. More than a decade after launch, HappyCow.com garners about 850,000 visitors per month and helps vegans and vegetarians all over the world find great food nearby.

Glen Merzer is coauthor with Del Sroufe of Better Than Vegan, with Pamela A. Popper, PhD, ND of Food Over Medicine, with Howard Lyman of Mad Cowboy, with Howard Lyman and Joanna Samorow-Merzer of No More Bull!, and with Chef AJ of Unprocessed. Merzer is also a playwright and screenwriter, having most recently completed a screenplay from Mad Cowboy. He has been a vegetarian for 40 years and a vegan for the last 20.