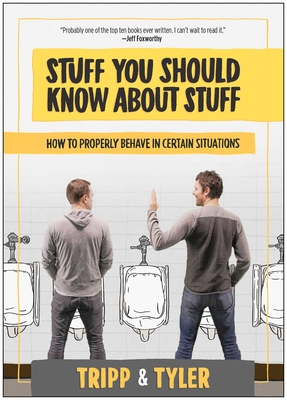 Stuff You Should Know About Stuff
How to Properly Behave in Certain Situations
Hardcover

* Individual store prices may vary.
Description
Do you know how to properly conduct yourself in a public restroom?
What about while in the midst of a profoundly awkward silence?
Have you perfected how to get out of helping your friend move?

If you answered no to those questions, fear not. You need Stuff You Should Know About Stuff, the book that future anthropologists will no doubt call "the Rosetta Stone of handling trivial life situations."

From the sketch comedy duo who created the viral videos "Sh*t Nobody Says" and "Things You Can't Do When You're Not in a Pool," Tripp and Tyler bring you the written word in Stuff You Should Know About Stuff, a guide instructing you how to navigate the treacherous waters of life's odd quandaries.

There are even photos and illustrations for people who enjoy photos and illustrations and stuff like that. You can read it from cover to cover or you can choose to educate yourself only in conjunction with your bowel movements. Totally your call there.

Stuff You Should Know About Stuff places the priority on the trivial experiences of life, because that's where we spend most of our time; trying to recover from going for the fist bump when a casual acquaintance wanted a high five.
Praise For Stuff You Should Know About Stuff: How to Properly Behave in Certain Situations…
"Probably one of the top ten books ever written. I can't wait to read it."
—Jeff Foxworthy

"These guys are better than Steinbeck. This book should be canonized. It's better than most of the New Testament."
—Don Miller, New York Times bestselling author of Blue Like Jazz

"Tripp and Tyler are two of the funniest people I've ever met in my life. (I haven't met Jim Gaffigan yet, but if I do, they told me I can change this endorsement.) This book is hilarious and will have you looking at situations in life completely differently."
—Jon Acuff, New York Times bestselling author of Start
BenBella Books, 9781939529688, 232pp.
Publication Date: November 4, 2014
About the Author
Tripp and Tyler are a sketch comedy duo most known for their numerous viral YouTube videos. They have been writing, directing, and performing comedy since 2005 and have since amassed dozens of millions of views.