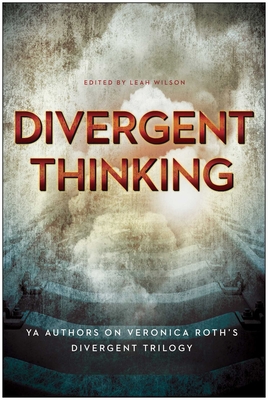 Divergent Thinking
YA Authors on Veronica Roth's Divergent Trilogy
Paperback

* Individual store prices may vary.
Description
Veronica Roth's Divergent trilogy (Divergent, Insurgent, Allegiant) has captured the hearts and thoughts of millions of readers. In Divergent Thinking, YA authors explore even more of Tris and Tobias' world, including:

• What Divergent's factions have in common with one of psychology's most prominent personality models
• The biology of fear: where it comes from and how Tris and the other Dauntless are able to overcome it
• Full-page maps locating all five faction headquarters and other series landmarks in today's Chicago, based on clues from the books
• Plus a whole lot more, from why we love identity shorthand like factions to Tris' trouble with honesty to the importance of choice, family, and being brave

With a dozen smart, surprising, mind-expanding essays on all three books in the trilogy, Divergent Thinking provides a companion fit for even the most Erudite Divergent fan.


Contributor list:

Elizabeth Wein
Maria V. Snyder and Jenna Snyder
V. Arrow
Jennifer Lynn Barnes
Mary Borsellino
Rosemary Clement-Moore
Debra Driza
Julia Karr
Dan Krokos
Elizabeth Norris
Janine K. Spendlove
Blythe Woolston
Smart Pop, 9781939529923, 256pp.
Publication Date: March 4, 2014
About the Author
Leah Wilson is editor-in-chief of the Smart Pop imprint of BenBella Books, and editor of The Girl Who Was on Fire: Your Favorite Authors on Suzanne Collins' Hunger Games Trilogy. She is also the co-editor of Demigods and Monsters (with Rick Riordan), Immortal (with PC Cast), and many other titles.