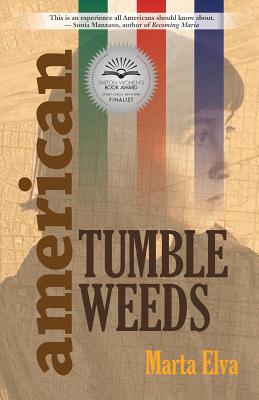 American Tumbleweeds (Paperback)
Circling Rivers, 9781939530011, 296pp.
Publication Date: May 10, 2016
* Individual store prices may vary.
Description
Inez's family is shattered when her father is arrested on the Tex-Mex border. The old ways cherished by her beloved Mexican grandmother offer refuge. But life in 1960s El Paso is far more exciting, as miniskirts, rock, and the sexual revolution shatter tradition on both sides of the border.
- Short-listed for the 2017 Sarton Women's Literary Awards -
American Tumbleweeds captures poignantly the growing pains of a teenaged girl and of all immigrants whose dual cultural identities lend them both strength and strife. From Amalia, the matriarchal grandmother, to Inez, woman-child of the 1960s, these "American tumbleweeds" portray every family: loving and clinging, wounding each other deeply while comforting each other in the soul-deep ways that only families can reach.
Says Sonia Manzano, "Maria" of Sesame Street "This is an experience all Americans should know about."
Praise For American Tumbleweeds…
With American Tumbleweeds, Marta Elva pulls us into the minds of a half-dozen members of a border family in crisis, dramatizing the state of living ni aqui, ni alla—neither here nor there geographically and emotionally. A moving first novel. — John Sayles, film director, author, and MacArthur fellow

The aptly named American Tumbleweeds depicts the balancing act some bi-cultural families must undertake to live in America. The characters indeed "tumble" back and forth over our southernmost border, forced to live in two worlds at once. This is an experience all Americans should know about. — Sonia Manzano, author of Becoming Maria: Love and Chaos in the South Bronx

American Tumbleweeds is an engrossing, enlightening portrayal of life along the Mexican–American border in the late 1960s. Marta Elva's sensitive insights draw a straight line to family and societal issues in today's headlines.
— Annamaria Alfieri, author of Strange Gods

Marta Elva's debut novel, American Tumbleweeds, provides an engaging look at the human cost of the turbulent 1960s along the Mexican-American border. Deftly conveyed through the eyes of an innocent and vulnerable fourteen-year-old girl and her family, this well-written saga could just as easily reflect contemporary times. It is insightful, timely, and rich with meaning. ­— Pam Webber, author of The Wiregrass

Marta Elva's American Tumbleweeds is both a moving coming-of-age story and a compelling tale of border intrigue that goes back in time to give a human face to some of the most divisive and hotly debated issues facing contemporary America. — Michael Winship, senior writer for Moyers & Company, PBS

Marta Elva has written a coming-of-age novel that perfectly captures the feel, fear, fun and uncertainty of the late 1960s. I was hooked on this delightful story from the very first page. And the characters stayed with me long after the final word. 
— Melanie Payne, columnist "Tell Mel," The News-Press, Fort Myers, FL

American Tumbleweeds gives voice and colour to a group of people who tend to be on the sharp-end of a flat and one-dimensional public narrative.… Elva hauntingly turns place into character in her novel, each chapter in the voice of a character set against their vivid cultural backdrop. If you loved The Book of Unknown Americans by Christina Hernandez, you'll adore American Tumbleweeds and its wonderful cast of characters who blow back and forth, tumbled and pushed by currents far more powerful than they. — Nicola Miller, columnist and features writer for the Bury Free Press, U.K.
or
Not Currently Available for Direct Purchase