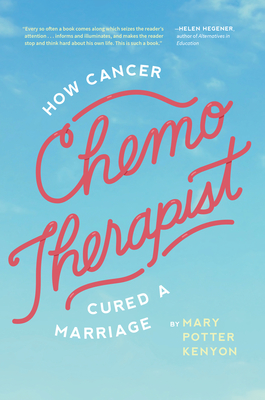 Chemo-Therapist
How Cancer Cured a Marriage
Paperback

* Individual store prices may vary.
Description
When Mary Potter Kenyon's husband, David, was diagnosed with cancer in the summer of 2006, she searched libraries and bookstores for books on cancer and the caregiving experience. What she discovered was a plethora of technical and medically-oriented books or those written by a caregiver whose loved one had died, a scenario she refused to contemplate. While serving as David's companion during Wednesday chemotherapy treatments, Mary began journaling about their experience as a couple and parents of young children as they navigated the labyrinth of cancer. It soon dawned on her that she was writing the very book she had searched for upon David's diagnosis: one that goes beyond the cancer experience to give hope and inspiration to the reader. Chemo-Therapist: How Cancer Cured a Marriage is a moving testimonial of a relationship renewed by the shared experience of a life threatening illness."
Initially, after David's diagnosis, I would cringe when I read books or articles by cancer survivors who stated that cancer had been a gift in their lives. How could all that David endured be viewed as a gift? The invasive surgery, the weeks of chemotherapy and radiation: a gift?Yet, after the cancer, David would often reach for my hand and say, "If it is cancer that is responsible for our new relationship, then it was all worth it." And I'd reluctantly agree that cancer had been a gift in our lives. We'd both seen the other alternative: patients and survivors who had become bitter and angry, and neither one of us wanted to become that.
Praise For Chemo-Therapist: How Cancer Cured a Marriage…
"In Kenyon's glass-half-full memoir, she movingly explains how her husband's tongue-cancer diagnosis turned her marriage around. Director of the Winthrop Public Library in Winthrop, Iowa, and a widely published writer, Kenyon is also a staunch Catholic. She and her husband, David, a trained social worker who worked as a maintenance man at a nursing home, raised eight kids, whom Kenyon homeschooled. Not surprisingly, the family felt financial stress, but once she learns she could lose David, Kenyon realizes she has always been so busy with the house and kids that she neglected their relationship. The couple started saying, 'I love you,' and holding each other close. 'We had become a kinder, gentler household,' Kenyon writes. In other words, as their radiation oncologist says in a short foreword, 'Cancer does not have to change everything in a negative way.' Each chapter starts with an inspirational quote from a wide range of sources, and some readers may feel uncomfortable with Kenyon's religious tone. But, overall, the story, which ends after Kenyon loses her husband to a heart attack, does hold universal appeal as Kenyon reminds all of us to better appreciate loved ones while they're alive."
—Karen Springen, Booklist
"Mary Potter Kenyon tells a beautiful love story, describing her life as a mother of eight home-schooled children, struggling with financial problems, and the trauma of her husband's fight against oral cancer. She serves up strong illustrative details covered with a double topping of honesty. No sugar coating here. If you've ever driven past a stranger's house and wondered what goes on behind closed doors, you'll want to open this book. But be fully warned! You'll have trouble putting it down."
—Elaine Fantle Shimberg, author of Blending Families and co-author of The Complete Single Father
 
"This intensely personal book openly talks about the issues that families face when a spouse is facing serious cancer treatments. Mary's frank writing about the emotional problems they faces as a family and as a couple should be required reading for couples facing any life and death medical condition. Finding 'the gift' of a new relationship in the midst of stress and daily living will, I hope, inspire others to reach for the same goal."
—Jean Reed, co-author with her husband Donn, Lifetime Learning Companion
 
"Mary Potter Kenyon shares the story of what happened to her family when her husband David was diagnosed with oral cancer, and the story she weaves is compelling, enlightening, and utterly engaging. Every so often a book comes along which seizes the reader's attention and draws him into the life and the everyday concerns of another person, a book which informs and illuminates and makes the reader stop and think hard about his own life. This is such a book."
—Helen Hegener, author of Alternatives in Education, The Homeschool Reader, and The Mantanuska Colony Barns

"Mary Potter Kenyon brings transparency, honesty, humor, and hope to spouses and family members caring for loved ones with cancer. With deep insight, she shares that illness can unlock doors to deeper levels in our relationships and lead us to new discoveries about ourselves and others. Chemo-Therapist is a must-read book about living and loving for anyone who wants to discover how to find joy in each day."
—Shelly Beach, Christy award-winning author of Ambushed By Grace: Help & Hope on the Caregiving Journey and Precious Lord, Take My Hand: Meditations for Caregivers
"This is an excellent book. It's a cancer story. It's a love story. It's a struggling-to-get-by story. But what I saw weaved through every piece is that overwhelmingly it is a God story. One well worth getting comfortable in your favorite chair and reading over a cup of coffee (probably with a box of kleenex)."
—Kim Harms, blogger, 26 Letters—Countless Stories

"Yes, this story is about cancer . . . This story helps the reader understand answers questions and gives a glimpse into what can be expected . . . Mary tells it like it really happened, the good, the bad, the ugly and, but not least, the joy. I was changed by absorbing her words."
—Mona Rottinghaus, blogger
Familius, 9781939629098, 188pp.
Publication Date: April 8, 2014
About the Author
Mary Potter Kenyon works as Program Coordinator for Shalom Spirituality Center and is a public speaker, a workshop presenter, and a writing instructor. Mary is the author of five previous Familius titles, including the award-winning Refined by Fire: A Journey of Grief and Grace, and is widely published in newspapers, magazines, and anthologies, including ten Chicken Soup for the Soul books.
or
Not Currently Available for Direct Purchase