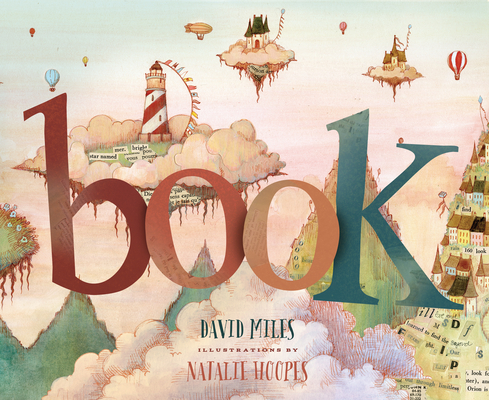 Book (Hardcover)
Familius, 9781939629654, 32pp.
Publication Date: July 14, 2015
* Individual store prices may vary.
Description
In a world dazzled by the latest gadgets and mesmerized by Internet videos, the humble book seems like the most ordinary thing that could be. And perhaps it is—until you learn to look closer . . . and closer . . . and closer . . . and you're suddenly in a world that only you can imagine.

With soft, warm storytelling and stunning, whimsical illustrations, Book embarks the reader on an imaginative journey through the literary lands of fact and fiction, a world where passwords, viruses, and broken screens can't stop a young boy's earnest quest for truth. Join in this celebration of literature, scrape the skies of opportunity, traverse the forests of what-could-be, free the powers of knowledge, and discover once again why the humble book is anything but ordinary.
About the Author
David Miles makes books for a living. He also reads books, writes books, sells books, shelves books, thinks about books, drives to books, sleeps to books, and cooks from books, but he doesn't eat books (which is fortunate). He is the author of Book and has illustrated multiple series including the Slide-N-Seek novelty books and the Let's Count regional board books. David graduated from Brigham Young University with a BS in business management. He and his wife and son live in California where they enjoy lots of tacos, donuts, and, well . . . books.
Natalie Hoopes was born with a head full of wild ideas. She decided that only way to get them out was to be a painter. She has recently graduated from Brigham Young University with a BFA in Illustration. Her artwork has been published in the
The Friend
,
New Era
and
Liahona
magazines. She currently lives in Utah with her husband and far too many books.
Praise For Book…
"Thoughtful, poetic phrases are well-matched by mixed-media artwork . . . One of the prettiest paeans to the codex in recent memory."
—Kirkus Reviews
  "The reader is entranced and enchanted by the imaginary world of the reader to be found in books . . . Book is a winning presentation of the enduring value of books (as opposed to other media for readers), enhanced by truly magical illustrations that encompass a trip to Fairyland and back."
—Midwest Book Review
" . . . A beautiful, wonderful title . . . for a reading time about the wonder of books."
—Cindy Mitchell, Library Teacher