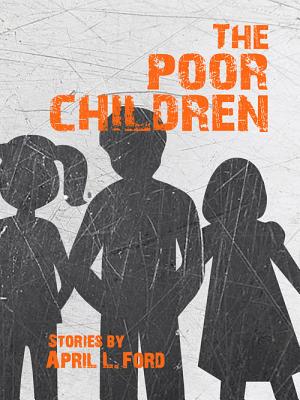 The Poor Children (SFWP Literary Awards) (Paperback)
Santa Fe Writer's Project, 9781939650184, 190pp.
Publication Date: April 1, 2015
* Individual store prices may vary.
Description
This edgy, stunning collection deftly examines the underbelly of the human condition through a cross-section of fascinating characters—a correctional officer fixated on a juvenile offender, a Goth teenager and her werewolf boyfriend, a pyromaniac by happenstance, and a set of twins haunted by an unconfirmed death. Pushing beyond the norms of daily life and into the sometimes morally lawless worlds of her characters, Ford explores the eccentric, the perverse, the disenfranchised, and the darkly comic possibilities at play in us all. Includes the Pushcart winning story, "Bananas & Limes."
About the Author
April L. Ford is a Pushcart Prize recipient, and Grand Prize winner of the SFWP Literary Awards Program. She is managing editor of Digital Americana Magazine.
Praise For The Poor Children (SFWP Literary Awards)…
"From the amazing first sentence of April L. Ford's debut collection, The Poor Children, I was hooked. This is a rarity: a compellingly original voice and vision."  —David Morrell, New York Times bestselling author
"These are smart, sad, funny, reckless, all-over-the-emotional-map stories that never lose their focus nor their grip on the reader. A harrowing and outstanding collection."  —Fred Leebron, author, Six Figures
"April L. Ford's prose is a sort of nimbus about darkness. She deals with painful subject matter in an unflinching manner reminiscent of some of Cormac McCarthy's early books. The Poor Children is a compelling, brave, and original debut."  —Naeem Murr, author, The Perfect Man
"April Ford's stories are a scorching corrective to kneejerk sentiment; they remind us that youth, while it has its pleasures, is essentially a battleground. A memorable debut."  —Jonathan Dee, author, The Privileges
"Frighteningly unsentimental stories about childhood and youth." —Kirkus Reviews
"Throughout The Poor Children, our gaze is held on the lives of children who demand our empathy but will not tolerate our sentimentality. In this hard-edged debut, April L. Ford shows promise of a brilliant career." —George Hovis, New Madrid Journal
"The Poor Children is a book you won't so easily forget." —Ron Hayes, 5writers.com
"The stories in The Poor Children are akin to the best collection of live songs. They hum with the anxieties of adolescence, and cover issues both big and small for her main characters . . . . worthy of everyone's attention." —Brad Windhauser, Philadelphia Review of Books
or
Not Currently Available for Direct Purchase