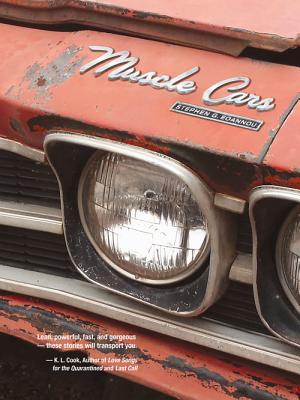 Muscle Cars (SFWP Literary Awards) (Paperback)
Santa Fe Writer's Project, 9781939650221, 244pp.
Publication Date: April 1, 2015
* Individual store prices may vary.
Description
The stories in Muscle Cars explore the unique and sometimes flawed relationships between men, their families, and their friends. Featuring a diverse cast of inarticulate misfits—including a compulsive body builder obsessed by the death of his brother, a former boxer forced to sell his prized 1946 New York Yankees–autographed baseball, and two boyhood friends who plan to steal Ted Williams' scientifically frozen head—this stand-out debut from Pushcart-nominated Eoannou is a powerful journey through the humor, darkness, and neuroses of the modern American everyman.
About the Author
Stephen G. Eoannou is the author of many short stories that have appeared in a number of literary journals and magazines, including Hayden's Ferry Review, the MacGuffin, Rosebud, and the Saturday Evening Post. He has been nominated for two Pushcart Awards, was awarded an Honor Certificate from the Society of Children's Book Writers and Illustrators, and was honored with the Best Short Screenplay Award at the 36th Starz Denver Film Festival. He lives in Buffalo, New York.
Praise For Muscle Cars (SFWP Literary Awards)…
"The stories in Stephen G. Eoannou's collection are, as the title suggests, very much like muscle cars—lean, powerful, fast, and gorgeous. Eoannou evokes, in 17 richly textured and often hilarious visions of Buffalo life, what it means to be male—son, brother, father, spouse, lover, half-baked friend, sports fanatic, neighbor—in the 21st century. These stories will transport you. Enjoy the ride."  —K. L. Cook, author, Love Songs for the Quarantined and Last Call
"Part Richard Russo, part Bruce Springsteen, part OTB parlors and Cutlass Supremes, Steve Eoannou's debut collection, Muscle Cars, is all—all—heart. These are tough, ruminative, cunning and tough—did I say tough?—stories of people trying to make it, one way and another, for better and worse. A fine first collection, and I look forward to the next." —Brett Lott, author, Jewel
"In his collection, Stephen G. Eoannou proves masterful at revealing that razor's edge inside everyday American man, where the power of role and the power of raw emotion almost balance out. He throws light on the mysterious interiors of husbands, fathers, sons, brothers, soldiers, compatriots, these streets of Buffalo past and present–all the while keeping track of the darker currents that run beneath the surface. And no matter how sympathetic, how human his storytellers are, there always seems to come a moment when you have to decide if this guy–the one with the plot to steal a frozen head or auction a baseball or shave his weightlifter legs–is brilliant or insane. Muscle Cars is a magnificent debut." —Ashley Warlick, author, Seek the Living and The Summer After June
"With its lean, elegant prose and intense sense of place, Stephen G. Eoannou's Muscle Cars is more than a collection of beautifully-written stories; it's a deep dive into the psyche of the American male." —Mike Burrell, Mike Burrell Author Blog