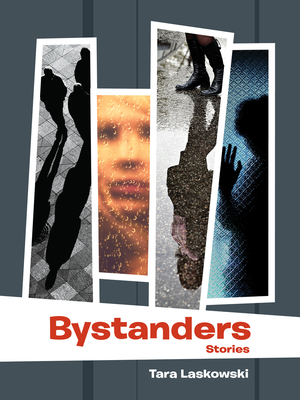 Bystanders (SFWP Literary Awards)
Paperback

* Individual store prices may vary.
Description
"A bold, riveting mash-up of Hitchcockian suspense and campfire-tale chills." —Jennifer Egan, Pulitzer Prize-winning author, A Visit From the Goon Squad


Legacies of violence and tragedy haunt these thirteen stunning stories from Tara Laskowski, author of Modern Manners for Your Inner Demons and One Night Gone.


A woman who becomes obsessed with her co-worker's murderer; an investigative reporter with a nose for scandal finds his own life suddenly unraveling; eerie sights in a video baby monitor haunt a new mother. When the unexpected happens, these bystanders—who are not always innocent—come face to face with their own choices and fates.


Bound together by danger, fear, paranoia, and the bumps we all hear in the night, these potent stories illuminate the darker side of the human condition. From a vicious newspaper strike that rocks a small Pennsylvania community to an unpredictable road trip in the vast desert of the American West, Bystanders explores the ways in which terror and uncertainty both consumes and invigorate us—and yet reveal our strengths, hopes, and passions.


Praise For Bystanders (SFWP Literary Awards)…
"There's still plenty left," one of the characters in The Witness says, referencing a cake, but the reader has been taken deep enough into the story to know that there's no way that can be true, because there's not enough of anything left for the main character. And in one story after another in this excellent collection, characters are tested when their expectations are strained and even shattered, not by the extraordinary, but more devastatingly, by the ordinary. Tara Laskowski's collection will be welcomed by readers who care about witnessing the significant rather than the spectacular." —Gary Fincke, author and winner of the Flannery O'Connor Prize for Sorry I Worried You
"Tara Laskowski's stories are deceptively cozy: soft suburban street lights out front, but a too-deep swimming pool out back. With a deft touch, she ravels and unravels her characters' lives so seamlessly; they never know what's coming until they're in too deep, and what's scarier, the reader doesn't, either." —Jen Michalski, author, 
The Tide King
and
The Summer She Was Under Water
"In this debut that resonates, Tara Laskowski's women and men drift through an imperfect suburbia, much like the disembodied souls who haunt her characters day and night. Laskowski has a natural ability to pen the banal, juxtaposed with the horror that often lurks just outside the light that spills from our windows. She digs into the crevices and corners of everyday lives to find the grit, the dirt, the ghosts—our deepest secrets—then finds a way to turn it all into crystal clear story moments that will enlighten her readers." —Tara L. Masih, series editor, The Best Small Fictions
"Tara Laskowski's stories show off a wonderful fusion of freshness and experience." —Alan Cheuse, NPR reviewer,
All Things Considered
"
Bystanders
is a bold, riveting mash-up of Hitchcockian suspense and campfire-tale chills." —Jennifer Egan, Pulitzer Prize-winning author,
A Visit From the Goon Squad
"Laskowski's fine workings of tales that go creepy in the night make her a writer to watch." —
Kirkus Reviews
"Laskowski's words draw you in and hold fast your attention. Her stories ride the spectrum of strange or unnerving to downright frightening." —Morgan Leigh Plessner, thesmallpressbookreview.blogspot.com
"Alluring, multi-dimensional characters populate this collection of clever tales." —Kim Winternheimer,
Washington Independent Review of Books
"These stories are quite varied in their approach to the theme, but also in their style, and even their genre. This variety makes for a delightfully surprising book, and the prose keeps you absorbed." —Dylan Kinnett,
Atticus Review
Santa Fe Writer's Project, 9781939650382, 238pp.
Publication Date: May 1, 2016
About the Author
Tara Laskowski is the author of Modern Manners for Your Inner Demons. She was awarded the Kathy Fish Fellowship from SmokeLong Quarterly in 2009, and won the grand prize for the 2010 Santa Fe Writers Project Literary Awards Series. Her fiction has been published in the Norton anthology Flash Fiction International, Alfred Hitchcock's Mystery Magazine, Mid-American Review, and numerous other journals, magazines, and anthologies. She has been the editor of SmokeLong Quarterly since 2010 and lives in Virginia with her husband, toddler, and two whiny cats.
or
Not Currently Available for Direct Purchase