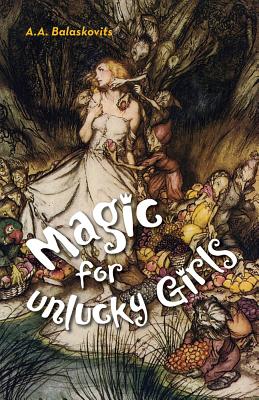 Magic for Unlucky Girls (SFWP Literary Awards) (Paperback)
Santa Fe Writer's Project, 9781939650665, 230pp.
Publication Date: April 1, 2017
* Individual store prices may vary.
Description
The fourteen fantastical stories in Magic For Unlucky Girls take the familiar tropes of fairytales and twist them into new and surprising shapes. These unlucky girls, struggling against a society that all too often oppresses them, are forced to navigate strange worlds as they try to survive. From carnivorous husbands to a bath of lemons to whirling basements that drive people mad, these stories are about the demons that lurk in the corners and the women who refuse to submit to them, instead fighting back—sometimes with their wit, sometimes with their beauty, and sometimes with shotguns in the dead of night.
About the Author
A. A. Balaskovits won the Santa Fe Writers Project Literary Awards grand prize in 2015. Her work appears in Indiana Review, The Madison Review, The Southeast Review, Booth, Wigleaf, and many others. She is the social media editor for Cartridge Lit.
Praise For Magic for Unlucky Girls (SFWP Literary Awards)…
"[Magic for Unlucky Girls] is that rarest of things: A book that doesn't remind me of anything else I've read . . . A wonderful, truly original work." —Emily St. John Mandel, author, Station Eleven
"Magic For Unlucky Girls is a bold debut from a bold author, and make no mistake—these are stories that matter, and that will stick with you long after you've read them." —William Jablonsky, author, The Indestructible Man: Stories and The Clockwork Man
"You'll find familiar fairytale tropes here, but Balaskovits shatters these familiar mirrors and finds fresh, original stories in the sinister shards." —Tara Laskowski, author, Bystanders and Modern Manners for Your Inner Demons
"Readers looking for something askew from any fantasy they've read before will want to get to know the unlucky but determined girls of Balaskovits's stories." —Publishers Weekly
"The stories in Magic for Unlucky Girls combine the magical with contemporary realism, rendering an aesthetic I've not quite seen but couldn't get enough of. Balaskovits has an in-depth eye for detail, creates her own folklores, and possesses a dry wit that adds a welcome attitude to her fables." —Michael Czyzniejewski, story366blog.wordpress.com
"Balaskovits's anthology breathes fresh life into classic fairy tales. Readers who enjoy short fiction with a fantastical bent should pick up this award-winning book." —Library Journal
"Balaskovits' stories are spectacularly entertaining and artfully executed." —Ashley Miller, Atticus Review
"Balaskovits creates her own mythology that transcends time and upends traditional ideas about helpless damsels and men-as-beasts." —Jen Michalski, washingtonindependentreviewofbooks.com