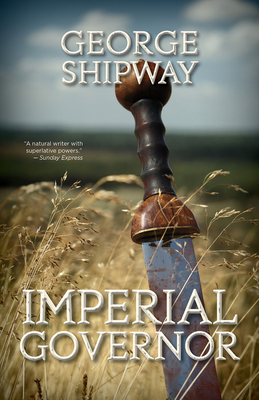 Imperial Governor
Paperback

* Individual store prices may vary.
Description
Londinium is burning. Gaius Suetonius Paulinus, newly appointed governor of Roman Britain, is charged by an increasingly unstable Emperor Nero with a difficult task—the untamed island on the fringes of the empire must earn a profit. To do so, Suetonius pursues the last of the Druids into Wales and, along the way, subdues the fractious Celtic chieftains who sit atop a fortune in gold and rare metals. Meanwhile, in the provincial capital of Londinium, war is brewing. As Nero's corrupt tax officials strip the British tribes of their wealth and dignity, an unlikely leader arises—Queen Boudicca, chieftain of the Iceni, who unites the tribes of Britain and leads them on a furious and bloody quest for vengeance and liberty. A novel told in the form of a memoir, Imperial Governor is a compelling and impeccably researched portrait of Gaius Suetonius Paulinus, Roman general and first-century Governor of Britannia, who unexpectedly found himself facing one of the bloodiest rebellions against Roman rule. Shipway's masterful military adventure has long been considered one of the most accomplished works of historical fiction set in the Roman Era, providing fascinating detail of life in Roman Britain and within the Roman Legions—and a riveting saga of uprisings, war, and conquest in the ancient world.
Praise For Imperial Governor…
"Required reading for fans of ancient Britain and Rome, and for anyone who loves immersive historical fiction." —Alan Smale, Sidewise Award-winning author of the 'Clash of Eagles' trilogy

"Utterly brilliant and compelling." —Bernard Cornwell, author of the "Sharpe" and "The Last Kingdom" series

"Splendidly successful…the details are distinct and convincing, the motivations skillfully developed, the action exciting." —Northern Echo
Santa Fe Writer's Project, 9781939650832, 495pp.
Publication Date: September 1, 2018
About the Author
George Shipway was a British author best known for his historical novels, but he also tried his hand at political satire in his book The Chilian Club. Shipway was born in 1908, and served in the Indian Imperial Cavalry until 1946. He died in 1982.
or
Not Currently Available for Direct Purchase