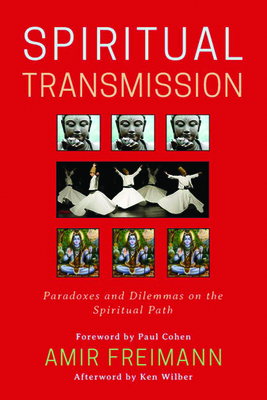 Spiritual Transmission
Paradoxes and Dilemmas on the Spiritual Path
Paperback

* Individual store prices may vary.
Description
The term "spiritual transmission" refers to the passing of the state of enlightenment from teacher to student, which takes place in many spiritual traditions. In itself, the transmission is synonymous with the experience of enlightenment. But the fact that the student's experience is rooted in a relationship with a human teacher who is perceived to possess absolute knowledge lends the experience much of its intrinsic, yet hidden, nature.
Following the breakup of his 21-year relationship with his own spiritual teacher, Amir Freimann launched a quest to discover the deeper realities of the student teacher relationship, logging over 1,000 hours of interviews with students and teachers. These interviews reveal the promises and perils of the guru-to-student relationship and explore hot-button topics such as the differences and similarities between therapists and gurus; the role of trust vs. rationality in the spiritual quest; and how money, power and sex are dealt with during the course of a student's training.
Spiritual Transmission includes never-before-published dialogues with many prominent spiritual teachers, plus a revelatory afterword by renowned integral theorist Ken Wilber. If you have ever been involved with a spiritual teacher or know someone who has, you need this book.
Interviewees in Spiritual Transmission include Peter (Hakim) Young, Andrew Cohen, Stephen Fulder, Christopher Titmuss, James Finley, Llewellyn Vaughan-Lee, Shaykh Fadhlalla Haeri, Saniel Bonder, Mariana Caplan, Mooji, Lakshmi, Barry Magid, Claire Slemmer, James Swartz, Diane Hamilton, Bill Epperly, Aliya Haeri, Thomas Steininger, Peter Bampton, Carolyn Lee, Terry Patten, Steve Brett and Mary Adams.
Monkfish Book Publishing, 9781939681959, 240pp.
Publication Date: November 27, 2018
About the Author
Amir Freimann was born (1958) in a kibbutz and grew up in a small village in Israel. At the age of 17 he became deeply interested in spiritual-existential questions about the nature of consciousness, freedom, self and the Whole. He served in the Israeli army and became a pacifist after participating in the 1982 Lebanon War. He then studied medicine but at the end of the 5th year of his studies decided to devote his life to spiritual awakening. He spent 2 years meditating in a Zen monastery in Japan and over 20 years doing intense spiritual practice and engaged in philosophical-spiritual exploration in the community of EnlightenNext in the USA. In 2009 he left the community and moved back to Israel. Shortly thereafter he began interviewing prominent spiritual teachers and their students which lead to the publication of Spiritual Transmission, which is his first book.