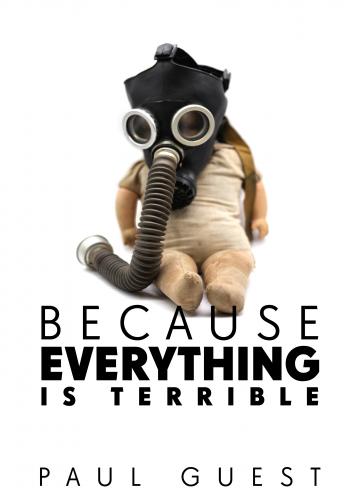 Because Everything Is Terrible
Paperback

* Individual store prices may vary.
Description
"In Paul Guest's fourth collection of poems, Because Everything Is Terrible, doom is never far away. It isn't all rapturous, of course—mushroom cloud and debris—rather, it's something that waits for you at the end of each day. Doom comes in small doses: Norway turns off its FM broadcast, a local doughnut shop closes after decades, your father hoses down his car after hitting a stray cat. This is the world in which we live, full of minor tragedies collected like change at the end of the day, pocketed or left on a nightstand. It's ordinary and—in its own way—completely debilitating."


—Rob Shapiro, The Colorado Review
Praise For Because Everything Is Terrible…
With vital, pulsating, elegiac poems that puncture the world with their tenderness and awful truths, Guest has once again proven he's a brilliant poet raging both against and in defense of the world. Here are shiver-inducing poems that look steadily into our current destructive times and still manage to sing of love, desire, of something worth saving.


—Ada Limón


This splendid new collection by Paul Guest begins with a trumpet blast—two blasts, actually, with the first poem describing a post-apocalyptic world from which words have disappeared and the second addressing America as Allen Ginsberg might, saying "America, you know / the words; sing them with me." Alternating between sound and silence, ecstasy and despair, Guest struggles as he takes on "this emergency we call life," yet he finds much more to praise than to lament. That doesn't mean that praise comes easily: "It is terrifying / to unhinge my mouth," he says, "but I do." The old Greeks would have called these passionate, noisy poems dithyrambs. I call them contemporary poetry at its very best.


—David Kirby


As if all the dread and ruin and "the world's congestive failures" were grafted — like skin, like a slip of a fruit tree — onto American movies, cartoons, and news, and then set on fire and then mourned in an exquisite, elegiac ritual — Paul Guest's poems read like this. They meditate, they hover, they extract the juice from the fractured self, they create a taxonomy of lost things. In place of art which Guest says he no longer enjoys comes this gorgeous work of art.


—Bruce Smith
Diode Editions, 9781939728234, 108pp.
Publication Date: March 7, 2018
About the Author
Paul Guest is the author of four volumes of poetry and a memoir. His debut, The Resurrection of the Body and the Ruin of the World, was awarded the 2002 New Issues Poetry Prize. His second collection, Notes for My Body Double, was awarded the 2006 Prairie Schooner Book Prize. His third collection, My Index of Slightly Horrifying Knowledge, was published by Ecco Press/ HarperCollins in 2008. His poems have appeared in Harper's, The Paris Review, Poetry, Tin House, The Kenyon Review, and elsewhere. His memoir, One More Theory About Happiness, was published by Ecco and selected for the Barnes and Noble Discover Great New Writers Program. Guest is the recipient of a Guggenheim Fellowship and a Whiting Writers' Award.
or
Not Currently Available for Direct Purchase