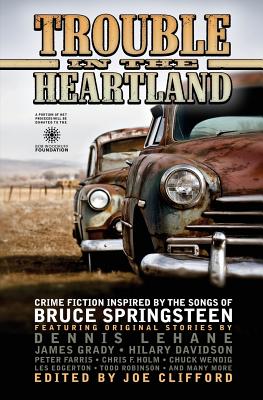 Trouble in the Heartland
Crime Fiction Based on the Songs of Bruce Springsteen
Paperback

* Individual store prices may vary.
Description
Like some born killers, this pairing of crime stories and the songs of Bruce Springsteen is a natural one. Each of the accomplished authors in this unique anthology chose a Springsteen title as a starting point, and in the criminally inclined spirit of the Boss, drove headlong to wherever that inspiration called. The destinations are as wildly diverse and far-reaching as the songs that influenced them. Some arrive at hope and redemption; others end up smoking in a ditch. One thing's for sure: you sign up for this ride, and Trouble in the Heartland will transport you somewhere unforgettable. Lynne Barrett (Dancing in the Dark) Eric Beetner (Up All Night) Richard Brewer (Last to Die) Jamez Chang (This Little Light of Mine) Jen Conley (Hard to Be a Saint in the City) Mike Creeden (Something in the Night) Lincoln Crisler (Born to Run) Hilary Davidson (Hungry Heart) Chris DeWildt (Glory Days) Les Edgerton (The Iceman) Peter Farris (What Love Can Do) Paul J. Garth (Nebraska) Jordan Harper (Prove It All Night) Chris F Holm (Mansion on the Hill) Chris Irvin (Death to My Hometown) David James Keaton (The Ghost of Tom Joad) Isaac Kirkman (Streets of Fire) Chris Leek (Candy's Room) Dennis Lehane (State Trooper) Benoit LeLievre (Atlantic City) Ezra Letra (Does This Bus Stop at 82nd Street) John McFetridge (Spare Parts) Lela Scott Macneil (Darkness on the Edge of Town) Court Merrigan (The Promised Land) Brian Panowich (Wreck on the Highway) Rob Pierce (Rosalita) Tom Pitts (Local Hero) Keith Rawson (My Best Was Never Good Enough) Chuck Regan (Radio Nowhere) Chris Rhatigan (Wrecking Ball) Todd Robinson (We Take Care Of Our Own) Ryan Sayles (Highway Patrolman) Gareth Spark (Straight Time) Richard Thomas (Because the Night) James Tuck (I m on Fire) Steve Weddle (Meeting Across the River) Chuck Wendig (Queens of the Supermarket) Dyer Wilk (Dry Lightning)
Gutter Books, 9781939751027, 270pp.
Publication Date: December 1, 2014