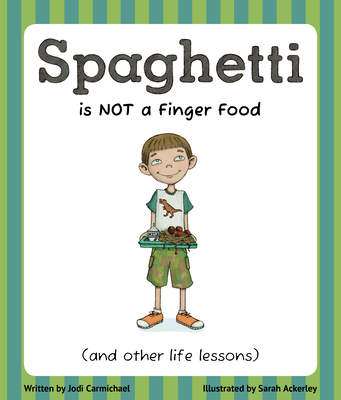 Spaghetti Is Not a Finger Food (and Other Life Lessons)
Paperback

* Individual store prices may vary.
Description
Being eight, Connor knew a lot. He knew that Mrs. Winters did not like to be interrupted, but he was sure she would appreciate his fact-finding methods--and who wouldn't want to know more about geckos? He knew he needed the new library book, "More All About Dogs," more than Jane needed to keep sitting on that stool--and he only nudged her off so he could reach it. On a day when everything seemed to go wrong, Connor turned out to be the only one who could save the school from a dog-caused Code Yellow Told from the point of view of a child with Asperger Syndrome, author Jodi Carmichael highlights some of the challenges--and triumphs--of experiencing a day at school from a different perspective.
March 4th Inc, 9781939775030, 145pp.
Publication Date: April 1, 2013
About the Author
Author Bio:

Jodi Carmichael was born and raised in Manitoba, Canada. She loves reading, writing, summers at the lake, and knows almost everything about chocolate!

Her dreams of becoming an author began to come true when she attended her first SCBWI conference in Los Angeles in 2007. She was thrilled when her submission was nominated for the Sue Alexander Most Promising New Work Award.

Jodi is a strong advocate for Asperger's Syndrome which led to Connor and his adventures in "Spaghetti is NOT a Finger Food and Other Life Lessons." It is her belief that understanding brings tolerance, acceptance, and compassion for others.

Jodi lives in a big yellow house in the heart of Winnipeg. There she can often be found dancing in the living room with her two wildly imaginative daughters, her patient and supportive husband, and a scruffy Border Terrier named Zoe. She continues to write, give presentations, and talk about writing to whoever will listen.

Illustrator Bio:

Sarah Ackerley grew up in Waxahachie, Texas in a family of seven children. Her parents had a reputation for giving books as gifts for all holidays-Valentine's Day included-and so Sarah had no choice but to read them. Fortunately, she loved to read and she developed an early fascination with picture books that she never lost. After earning her BFA from the University of Texas at Austin, Sarah began pursuing a career in children's book illustration. She developed her style by looking at hundreds of picture books and constantly drawing character sketches. She currently owns more picture books than regular books and will probably keep it that way as her Amazon shopping cart somehow keeps filling up with children's books that need to be purchased. Sarah lives in Los Altos, California with her husband and two fickle cats. She divides her time between illustrating books and creating whimsical paintings and portraits for kids of all ages. Visit Sarah on the web at www.sarahackerley.com.