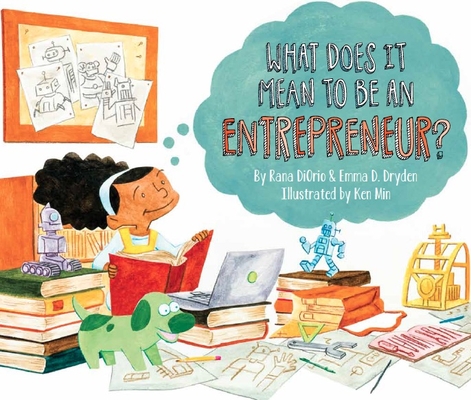 What Does It Mean to Be an Entrepreneur? (What Does It Mean To Be...?)
Hardcover

* Individual store prices may vary.
Description
Part of the award-winning What Does It Mean to Be...? series, What Does It Mean to Be an Entrepreneur? is a marvelous introduction for children of all ages to the concept of entrepreneurship and creativity.
Being an entrepreneur means…
Following your dream
Loving to learn and being curious
Taking risks
Celebrated by Co-Founder of Ben & Jerry's, Jerry Greenfield, What Does It Mean to Be an Entrepreneur? is a book that "Inspires young dreamers to find the courage to be doers."
When Rae witnesses an ice cream-and-doggie mishap, she's inspired to create a big-scale solution to wash dogs. Rae draws on her determination, resilience, and courage until she—and everyone else in her community—learns just what it means to be an entrepreneur.
This fun approach to a sometimes complicated concept is sure to inspire budding entrepreneurs to follow their dreams. After all, being an entrepreneur takes courage, creativity, and a growth mindset!
Little Pickle Press, 9781939775122, 36pp.
Publication Date: January 26, 2016
About the Author
Rana DiOrio is an intrepid force for empowerment and positive change. Her purpose is to help people maximize their potential, and she continues to expound and expand upon that mission across her diverse and highly successful career.
As a corporate and securities attorney, tech-sector investment banker, investor, and advisory board member, Rana has catalyzed the financial, operational, and cultural growth of organizations for almost three decades. As an award-winning author and children's media entrepreneur, she has sparked meaningful conversations between children and their caring adults and is focused on fostering kindness in the next generation by helping creatives who make this possible realize the full potential of their work through her company, Creative Mint, Inc. She lives in San Francisco, CA with her three children. Follow Rana on Twitter @ranadiorio and on Instagram @ranedear.
Ken Min will tell you he was born on an ice floe and raised by a clan of penguins who read to him every night from the works of Margret & H.A. Rey, William Joyce, and DC Comics. He'll also say that he learned to paint by throwing his food at the walls. In reality he was born in Los Angeles and studied illustration at Art Center, College of Design. He has storyboarded for various commercials and animated TV shows such as The PJs and Futurama. His illustration work has been recognized numerous times by the Society of Children's Book Writers & Illustrators (SCBWI). In 2012, the first picture book he illustrated, Hot, Hot Roti For Dada-Ji, received the Picture Book Honor Award for Literature from the Asian Pacific American Librarians Association (APALA). These days, you will find Ken illustrating, storyboarding, writing, and dreaming up stories for children. Ken lives in Los Angeles.