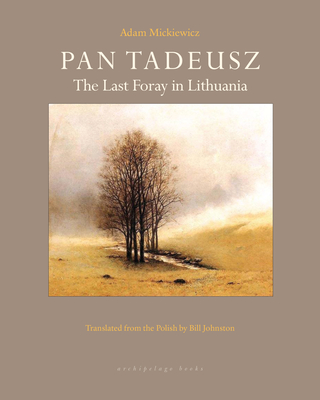 Pan Tadeusz
The Last Foray in Lithuania
Paperback

* Individual store prices may vary.
Other Editions of This Title:
Paperback (1/1/1992)
Hardcover (8/14/2020)
Paperback (8/5/2020)
Paperback (12/15/1962)
Paperback (10/7/2015)
Paperback, Swedish (5/2/2019)
Paperback, Polish (9/29/2013)
Paperback (4/30/2019)
Paperback (2/9/2018)
Hardcover (4/3/2018)
Paperback (4/26/2011)
Paperback (7/3/2020)
Description
The national epic of Poland and touchstone of modern European literature, now in a fresh translation by award-winning translator Bill Johnston.

A towering achievement in European literature, Pan Tadeusz is the central work of the Polish literary canon, heralded for its lovingly detailed recreation of a bygone world. The traditions of the Polish gentry and the social and natural landscape of the Lithuanian countryside are captured in verse of astounding beauty, simplicity, and power. Bill Johnston's translation of this seminal text allows English-language readers to experience the richness, humor, and narrative energy of the original.
Praise For Pan Tadeusz: The Last Foray in Lithuania…
Winner of the 2019 ALTA National Translation Award in Poetry

"Bill Johnston, celebrated as a translator of landmark Polish literature, has crafted a wondrously eloquent and entertaining new version of Pan Tadeusz. Over 450 never-flagging pages, he converts Mickiewicz's 13-syllable rhyming lines into iambic couplets deployed with stupendous skill, grace and agility. Nimble half-rhymes, lithe enjambment and mischievous wordplay channel all the story's humour and exuberance, and banish any risk of jingling monotony . . . At last, English readers can grasp why Pan Tadeusz belongs with Byron's Don Juan and Pushkin's Eugene Onegin in a glorious farewell trio that marked the swansong of the verse epic in Europe." — Boyd Tonkin, The Spectator

"Like stumbling across a lost city, forgotten for ages and now brought back to life, in all its glittering, self-sufficient glory... Pan Tadeusz is that rarest of things, a revolutionarily conservative poem, by which I mean a work whose effort to preserve the things that are most precious in a civilization ends up passing judgment not only on the present but also on the past..." – Josh Billings, The Los Angeles Review of Books

"I was amused and astonished by Johnston's ability to channel the playfulness of Mickiewicz's language throughout the text. ... It's Mickiewicz's brilliant play with language that makes this poem an engrossing experience. An dthis is where Johnston's 'performance' succeeds most definitively: in capturing the author's wild fluctuations of register and brilliant associative riffs." — Eric Fishman, ArtsFuse

"The book is marvelous, its language preserved as a thesaurus of phrases whose origin has been long forgotten, now constituting a shared national vocabulary. ... A very good translation by Bill Johnston, uncluttered by archaisms, quick and energetic, full of humor and warmth, unobtrusively rhymed. It is a gift to English­language readers, revealing the depths of Lithuanian forests, squabbling warrior­barons, and flirting ladies in search of husbands. And the underlying despair of the author—an exile forever separated from home." — Irena Grudzińska, Book Post

Archipelago, 9781939810007, 496pp.
Publication Date: September 25, 2018
About the Author
Adam Mickiewicz (1798 - 1855) was a Polish poet, dramatist, essayist, activist, and professor. He is regarded as a national poet in Poland, Lithuania, and Belarus. Born into Russian-occupied Lithuania, Mickiewicz was active in the struggle to win independence. He lived most of his life in exile in western Europe where he wrote freely of the occupation and taught Slavic literature. He died in Constantinople, where he had gone to help organize forces to fight against the Russians in the Crimean War.
About the translator: Bill Johnston is a professor of Comparative Literature at Indiana University. His translations include Witold Gombrowicz's Bacacay; Magdalena Tulli's Dreams and Stones, Moving Parts, Flaw, and In Red; Jerzy Pilch's His Current Woman and The Mighty Angel; Stefan Żeromski's The Faithful River; and Fado and Dukla by Andrzej Stasiuk. In 1999 he received a National Endowment for the Arts Poetry Fellowship for Translation. In 2008 he won the inaugural Found in Translation Award for Tadeusz Rozewicz's new poems, and in 2012 he was awarded the PEN Translation Prize and Three Percent's Best Translated Book Award for Myśliwski's Stone Upon Stone.
or
Not Currently Available for Direct Purchase