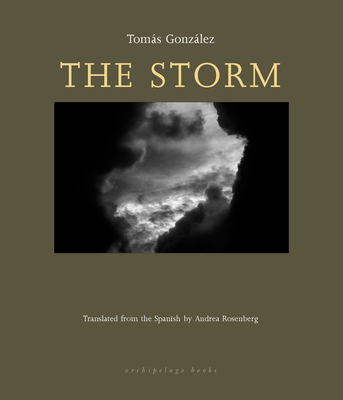 The Storm
Paperback

* Individual store prices may vary.
Description
A riveting family drama set on the lush and dangerous Colombian coast.

By one of Colombia's most acclaimed contemporary novelists, The Storm is an atmospheric, gripping portrait of the tensions that devastate one family. Twins Mario and Jose do not know how to cope with the hatred they feel for their father, an arrogant man whose pride seems to taint everything he touches. Over the course of a fateful fishing trip straight into the heart of a storm, father and sons are confronted with the unspoken secrets and resentments that are destroying them.
Praise For The Storm…
"There is humor in the frequent revelation of self-delusions. There is also suspense as the storm—more interpersonal than weather-related—builds and breaks. Fabulist elements, lyrical prose, and a chorus of narrative voices give this slim novel depth and breadth." — Kirkus Reviews

"Self-delusion, hallucinations, anger, volatility chafe against the soothing waters and the stars above, and González, one of South America's most acclaimed and pitch-perfect novelists, plunges you into the brutality of man and nature alike." – Kerri Arsenault, Lit Hub

"In Andrea Rosenberg's translation, the author's stylistic traits—short and pointed phrases, poetic descriptions and poetic monologues—shine and linger in the reader's ear...The Storm arrives as a welcome addition to the international recognition of one Colombia's most prolific and poetic writers." – Nicolás Llano, Asymptote Journal

"A complex psychological portrait of a family on the verge of self-made disaster." --Hank Stephenson, bookseller, Flyleaf Books, in Shelf Awareness

Praise for In the Beginning was the Sea (Pushkin Press, 2014):


   • "Gonzalez poetically and comically captures the inevitable destruction of those who live in a world of fantasy and hubris, depicting beauty and despair by turns." -- Publishers Weekly
   • In the Beginning Was the Sea [is] a book that simultaneously works as a political parable, a novel, and a mournful confessional... written in a fashion meant to hold up his own grief and disorientation as its own strange flower, an emotional germination meant both to stand on its own and be inseparable from all that surrounds it, an individual "you," straining to emerge from a ceaseless body of discovery, loss, memory, and their insatiable repetition." -- Los Angeles Review of Books
   • "The lyrical, haunting story has the feel of a fable--a young man and his beautiful wife abandon their hectic, intellectual, night-clubbing life in the city to buy a farm on an undeveloped stretch of coast--while the spare, disquieting prose suggests the start of an art-house horror film." - Daniel Levine, Words Without Borders
Archipelago, 9781939810021, 120pp.
Publication Date: December 4, 2018
About the Author
Tomas González was born in Medellín, Colombia. He studied philosophy at the Universidad Nacional de Colombia. He lived in the US for twenty years before returning to Colombia in 2002, where he still resides. About the translator: Andrea Rosenberg translates from Spanish and Portuguese. Among her published and forthcoming translations are Juan Gómez Bárcena's Sky over Lima (Houghton Mifflin Harcourt, 2016), David Jiménez's Children of the Monsoon (Autumn Hill Books, 2014), and Lina Meruane's Viral Voyages: Tracing AIDS in Latin America (Palgrave Macmillan, 2014). Her work has appeared in a variety of publications including the Buenos Aires Review, the Iowa Review, the Quarterly Conversation, and In Translation.
or
Not Currently Available for Direct Purchase