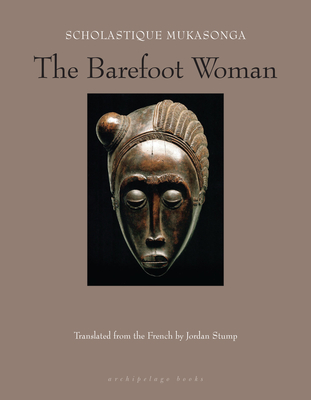 The Barefoot Woman
Paperback

* Individual store prices may vary.
Other Editions of This Title:
MP3 CD (9/27/2022)
Compact Disc (9/27/2022)
Description
FINALIST FOR THE NATIONAL BOOK AWARD FOR TRANSLATED LITERATURE

A moving, unforgettable tribute to a Tutsi woman who did everything to protect her children from the Rwandan genocide, by the daughter who refuses to let her family's story be forgotten.

The story of the author's mother, a fierce, loving woman who for years protected her family from the violence encroaching upon them in pre-genocide Rwanda. Recording her memories of their life together in spare, wrenching prose, Mukasonga preserves her mother's voice in a haunting work of art.
Praise For The Barefoot Woman…
"Radiant with love... The Barefoot Woman powerfully continues the tradition of women's work it so lovingly recounts. In Mukasonga's village, the women were in charge of the fire. They stoked it, kept it going all night, every night. In her work — six searing books and counting — she has become the keeper of the flame."
--The New York Times

"A profoundly affecting memoir of a mother lost to ethnic violence. . . A loving, urgent memorial to people now "deep in the jumble of some ossuary" who might otherwise be forgotten in time."
--Kirkus Reviews (Starred Review)

"The memories of childhood, a lost home, a mother who sacrificed herself are the pounding heart of the book, and Mukasonga has produced a work that anyone who might read it will remember."  --Eleni Theodoropoulos, Literary Hub, Best Translated Novels of the Decade

"This is an important book written for a strong and loving woman."
--BOOKish (A Must Read Fiction Selection)

"Mukasonga is a master of subtle shifts in register — a skill inherited, perhaps, from the Rwandan traditions of intricate courtesy and assiduous privacy that Stefania maintained. She turns everything over restlessly: In her prose, poignant reminiscences sharpen into bitter ironies, or laments reveal flashes of comedy, determination, defiance."
--The New York Times Book Review

"The Barefoot Woman is simultaneously a powerful work of witness and memorial, a loving act of reconstruction, and an unflinching reckoning with the Rwandan Civil War. In sentences of great beauty and restraint, Mukasonga rescues a million souls from the collective noun 'genocide', returning them to us as individual human beings, who lived, laughed, meddled in each other's affairs, worked, decorated their houses, raised children, told stories. An essential and powerful read."
--Zadie Smith

"A loving tribute to a strong mother and a striking work of memoir. . . Extraordinarily, this story is at times horrifying in its content and at other times playful; lyric in its style and tender in its handling of the central character. While the reader's knowledge of the genocide to come hangs over the narrative, the everyday events often retain a quotidian feeling; Stefania and her neighbors worry over their children but also laugh and celebrate and arrange marriages. As a literary work, this establishes a rare balance. Jordan Stump's translation from the French beautifully conveys this sense of both tragedy and day-to-day joy. . . This is an adoring, gorgeously rendered memorial to a mother and testimony to a people."
--Julia Kastner, librarian and blogger at pagesofjulia, in Shelf Awareness

"I will read anything and everything by Scholastique Mukasonga, who writes in French and is translated by Jordan Stump. Mukasonga's writing is beautiful, lucid, and moving about the most chaotic and devastating experiences. Her work astounds me in a way that few writers do. I return again and again to the haunting opening of The Barefoot Woman, her memoir about her mother, Stefania, who was murdered in the Rwandan genocide. The memoir itself is how the narrator keeps a broken childhood promise to her mother, 'my sentences weave a shroud for your missing body.' In September, I look forward to reading Igifu, a story collection published by Archipelago." 
--Grace Talusan, author of The Body Papers, in Restless Books

"The Barefoot Woman is a gorgeous book, elegantly written in a way that almost lets you forget how much trauma is woven into every paragraph...a piercing book about the space between fear of death and death itself, and how traditions can sustain a community between those terrible moments. And after, if only in memory."
--Mark Athitakis, On the Seawall

"The Barefoot Woman is lyrical but also informative and ethnographic, as much a memoir of a mother as it is of her way of life. ... Mukasonga has done far more than remembering and recognizing the human beings she grew up with; she has immortalized them."
--Helen Epstein, The Arts Fuse

"The Barefoot Woman is a living-record document, the voice of culture, tradition, and hope as well as a representation of the history lived by a group of Tutsi during the Rwandan genocide. It is a great performance where language has the stage, where words are revered and carefully chosen." --World Literature Today

"Thirty-seven members of award-winning novelist Mukasonga's Tutsi family were killed by Hutus in the 1994 Rwandan genocide. She was the only survivor. Her new memoir focuses on her mother Stefania, whose primary emphasis was on saving her children from those who considered Tutsis "cockroaches", coming up with survival strategies, hiding places, paths to safety. Mukasonga describes Stefania's daily life in Rwanda, and in various lands of exile, hoe in hand, tilling the soil, sowing, weeding, harvesting in cycles of beans, corn, and sorghum. It's a way of life now gone. The Barefoot Woman is a tribute born of the horror of her mother's 'poor remains dissolved into the stench of the genocide's monstrous mass grave', crafted by a daughter who hopes that her 'sentences weave a shroud for [her] missing body.' 
--Jane Ciabattari, BBC Culture

"Ever clear and laudable...is Mukasonga's consistent portrayal of her mother as a guardian of the family and of Rwandan lore and customs in the deadly wake of expulsion and exile." – Angela Ajayi, 
--The (Minneapolis) Star Tribune

"The fiercest of wars are fought by so many invisible heroes.  The boldest of warriors will take on hell, descend into its depths, armed with a fiery love and set it differently alight. And even though this is a threnody, it is also a soaring story of grace, of faith, family, friendship, in-betweenness, and keeping just one nightmare away from the bogeyman; of Stefania who lived beyond boundaries, including those limits defined by those who would, and did, destroy a body, but never, oh no, not ever the dauntless soul of this, the most intrepid of mothers, a woman who drank fully of life, with a love that throbs through ever word in this epigrammatic book. A daughter's lyrical tribute, The Barefoot Woman is a resonant revelation."
--Yvonne Adhiambo Owuor, author of Dust

"Scholastique Mukasonga's tender paean to motherhood and community (originally published in French in 2008 and seamlessly translated by Jordan Stump) explores how exile robs people of their traditions and identity . . . The Barefoot Woman is an extraordinary tribute to 'Mother Courage,' as well as a timely reminder of war's devastation."
--Lucy Popescu, The Guardian
Archipelago, 9781939810045, 152pp.
Publication Date: December 18, 2018
About the Author
Born in Rwanda in 1956, Scholastique Mukasonga experienced from childhood the violence and humiliation of the ethnic conflicts that shook her country. In 1960, her family was displaced to the polluted and under-developed Bugesera district of Rwanda. Mukasonga was later forced to flee to Burundi. She settled in France in 1992, only two years before the brutal genocide of the Tutsi swept through Rwanda. In the aftermath, Mukasonga learned that 37 of her family members had been massacred. Her first novel, Notre-Dame du Nil, won the Ahmadou Kourouma prize and the Renaudot prize in 2012, as well as the 2013 Océans France Ô prize, and the 2014 French Voices Award, and was shortlisted for the 2016 International Dublin Literary award. In 2017 memoir Cockroaches was a finalist for the LA Times Charles Isherwood Prize for Autobiographical Prose. About the translator: Jordan Stump received the 2001 French-American Foundation's Translation Prize for his translation of Le Jardin des Plantes by Nobel Prize winner Claude Simon. In 2006, Stump was named Chevalier de l'Ordre des Arts et des Lettres. He has translated the work of Eric Chevillard, Marie Redonnet, Patrick Modiano, Honoré de Balzac, and Jules Verne, among others. He is a professor of French literature at the University of Nebraska.
or
Not Currently Available for Direct Purchase