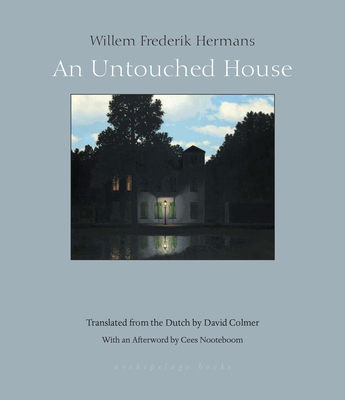 An Untouched House
Paperback

* Individual store prices may vary.
Description
A brooding meditation on violence by a classic post-war Dutch writer who has drawn comparisons to Joseph Heller and Kurt Vonnegut.

A mesmerizing, dark meditation on the legacy of war. An interloper and opportunist makes a grand house his own in the chaos of a war-torn countryside, only to find himself involved with occupying forces and enraged locals.
Praise For An Untouched House…
One of Ian McEwan's 'most underrated books'

"Two contrasting energies galvanize Hermans's fictions. The wry invitation to find symbols and deeper meanings is balanced by a wealth of detail and meticulously described action, all rapidly delivered, convincingly concrete, and psychologically persuasive . . . Hermans knows life intimately and that his knowledge is devastating."
--Tim Parks, New York Review of Books

"What's most interesting, and what connects this novel with [Hermans's] others set in wartime—A Guardian Angel Recalls and The Darkroom of Damocles—are questions of identity, authenticity, and duplicity. As these novels chart the ways in which warfare can deform and degrade us, they measure the gap between their characters' true inner selves and the false identities they assume: the roles they play and the lies they tell. And all three books monitor the terrifying ease with which that gap can narrow."
--Francine Prose, Harper's

"Profoundly unsettling . . . haunt[s] the mind for long afterwards."
--The Sunday Times, A Book of the Year

"Those who do simply open and read will find themselves immersed in a nightmare miniature where philosophical musing gives seamless way to beautiful but unyielding cruelty...this newer translation by David Colmer seems to better capture the unsettling horror."
--Ben Murphy, Full Stop

"Although An Untouched House is brief, it is worth pacing oneself and absorbing its remarkable density. Hermans is the architect of a masterful story –– concise but expansive in vision...a lucid, exhilarating account."
--Peyton Harvey, Zyzzyva

"Hermans's novella is a bleak depiction of the absurdity of war, which knows no winners."
--Felix Haas, World Literature Today

"A shocking Dutch classic… remarkable… It takes an hour or two to read, but An Untouched House is the kind of book that stays with you for ever." — The Guardian

"From the opening pages, the translator David Colmer brilliantly evokes the laconic tone of a narrator who proves intelligent, resourceful and increasingly deranged... By any light, this eloquent marvel teases, bewilders and unnerves."
--Times Literary Supplement

 "This novella is a fascinating portrait of a solipsistic mind, a scrupulous rendering of the erosion of human empathy that resonates in these uncivil times."
--Christopher Byrd, Vulture

'I was struck by the compressed farce and horror in the 1951 Dutch novella An Untouched House.' --Sam Leith, choosing An Untouched House as a Spectator Book of the Year

"Taut… dark, thrillerish." — New Statesman

"Shocking… properly unsettling… It would certainly be good to have a lot more of Hermans's work available here." — Sunday Times

"A stark, funny and graphic exploration of the folly of war… Bravo Pushkin Press for seeking out yet another international gem." — A Life in Books
 
"An expertly crafted story… A small novel that packs a strong, hard punch." — Complete Review

"As disturbing and powerful as anything by Joseph Heller or Kurt Vonnegut."
--Michel Faber

"Hermans is as alarming as a snake in the breadbin... hugely entertaining."
--The Scotsman

"Crackling with uneasy tension... A beautiful new edition of a powerful and timeless, slim Dutch masterpiece, written in a spare and crisp style that brings to mind Camus."
--The Lady

"Disturbing, haunting, and brilliant… an excellent antidote to misty eyed nostalgia for blitz or Dunkirk spirit."
--Desperate Reader

"A violent apotheosis without equal in modern literature. A sadistic universe that offers no room for escape."
--Cees Nooteboom

"Unsurpassed in its stylistic precision, unsettling in its language, dialogue, atmosphere, humour." ---Harry Mulisch

"[Hermans] granted me a silence in which I could hear this novel's voice in all its purity, in all the beauty of the unexplained and the unknown."
--Milan Kundera

'A literary tour de force."
--Frankfurter Allgemeine Zeitung

"Short but powerful novella… I was filled with admiration for its unflinching depiction of what happens when war numbs the human heart and destroys empathy."
--The Book Jotter (blog)

"An Untouched House is a bleak but riveting exploration of humans at their most desperate. Language fails to communicate, the most brutal acts are often the most pointless, and individuals fall victim to circumstance . . . Over seventy years later, it's still powerfully disquieting, the aesthetic equivalent of a short, terrible dream that reorders your vision of reality. "
--Marisa Grizenko, Plain Pleasures


Praise for Hermans' The Darkroom of Damocles:

"I didn't know more [than a few facts about Hermans or his life]. But that wasn't necessary to delight in his novel. Works of art are gnawed at by a frenzied pack of comments and facts and their din renders the singular voice of a novel or a poem inaudible. I finished Hermans' book with a sense of gratitude for my ignorance; it granted me a silence in which I could hear this novel's voice in all its purity, in all the beauty of the unexplained and the unknown. . . I dove into this novel, intimidated at first by its length, then surprised at having read it without stopping. Because this novel is a thriller, a long chain of events in which the suspense never lets up. The events (which take place during the War and in the years immediately after) are described in a dry, exacting manner, detailed but swift; they are terribly real, yet skirt the limits of plausibility. I was captivated by this aesthetic: a novel smitten with the real and at the same time fascinated by the improbable and the strange." -- Milan Kundera, Le Monde
Archipelago, 9781939810069, 120pp.
Publication Date: October 23, 2018
About the Author
Willem Frederik Hermans (1921-1995) was one of the most prolific and versatile Dutch authors of the twentieth century. He wrote essays, scientific studies, short stories, and poems, but was best known for several novels, the most famous of which are De tranen der acacias (The Tears of the Acacias, 1949), De donkere kamer can Domecles (The Darkroom of Damocles, 1958), and Nooit meer sleepen (Beyond Sleep, 1966). About the translator: David Colmer is a writer and translator. He translates Dutch literature in a wide range of genres including literary fiction, nonfiction, children's books, and poetry. He is a four-time winner of the David Reid Poetry Translation Prize, and received the 2009 Biennial NSW Premier and PEN Translation Prize. His translation of Gerbrand Bakker's The Twin (Archipelago) was awarded the International IMPAC Dublin Literary Award and he received--along with Gerbrand Bakker--the Independent Foreign Fiction Prize for Bakker's novel The Detour.
or
Not Currently Available for Direct Purchase