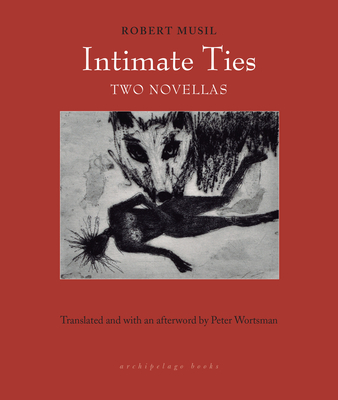 Intimate Ties
Two Novellas
Paperback

* Individual store prices may vary.
Description
Two erotic novellas by one of the masters of high modernism.

First published in 1911, Intimate Ties is Robert Musil's second book, consisting of two novellas, "The Culmination of Love" and "The Temptation of Silent Veronica." Each revolves around a troubled woman in the throes of her sexual and romantic woes, as their memories of the past return to influence their present desires. Musil tracks the psyche of his protagonists in a blurring of impressions that is reflected in his experimental prose. Intimate Ties offers the reader an early glimpse of the high modernist style Musil would perfect in his magnum opus The Man Without Qualities.
Praise For Intimate Ties: Two Novellas…
"(These stories) mimic the circular thought patterns of private obsession with such authenticity that they could easily frighten readers ... each novella scrutinizes the inchoate nature of the human psyche with great audacity and compassion, and each functions as a resolute exploration of the limitations of self-expression through language." — The Hudson Review

Praise for Robert Musil's Posthumous Papers of a Living Author, translated by Peter Wortsman:

"Musil's linguistic facility--the merging of aim, manner and result--is virtuosic. He's such a consummate stylist that after him Kafka may seem immature, Mann chatty, Brecht arch, Rilke precious and Walter Benjamin hermetic. And Peter Wortsman's translation is splendid, succeeding in capturing this author's unique combination of quizzical authority and austere hedonism."--The New York Times Book Review

"Funny, sad and true--or rather funny because they are both sad and true--such observations are, to use a typical Musil phrase, a form of 'daylight mysticism,' shafts of light in a darkening world."--Chicago Tribune

Praise for Peter Wortsman's translation of Konundrum by Franz Kafka:

T"he translator Peter Wortsman's excellent and bracing new selection of Kafka's stories, Konundrum: Selected Prose of Franz Kafka... brings the author's peculiar rhetoric to glorious life."-- Morten Høi Jensen, Los Angeles Review of Books
Archipelago, 9781939810236, 208pp.
Publication Date: May 28, 2019
About the Author
Robert Musil (1880-1942), born in Vienna, was trained as a mathematician, behavioral psychologist, engineer, and philosopher. During World War I, he served as an officer in the Austrian Army on the Italian front. He died exiled and impoverished in Switzerland in 1942. Author of The Man Without Qualities, The Confusions of Young Törless, and Five Women, Musil is one of the towering pillars of high modernism.
About the translator: Peter Wortsman is the author of A Modern Way to Die: Small Stories and Microtales, the plays The Tattooed Man Tells All and Burning Woods, the memoir Ghost Dance in Berlin, and a collection of short fiction, Footprints in Wet Cement. Wortsman's translations from the German include Telegrams of the Soul: Selected Prose of Peter Altenberg, Travel Pictures by Heinrich Heine, Posthumous Papers of a Living Author by Robert Musil, The Man Who Sold His Shadow by Adelbert von Chamisso, Selected Prose of Heinrich von Kleist, Selected Tales of the Brothers Grimm,Tales of the German Imagination: From The Brothers Grimm to Ingeborg Bachmann, and Konundrum: Selected Prose of Franz Kafka.
or
Not Currently Available for Direct Purchase