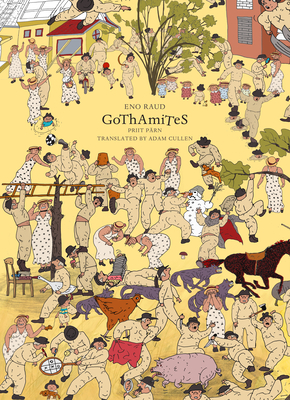 The Gothamites (Hardcover)
Elsewhere Editions, 9781939810281, 44pp.
Publication Date: June 11, 2019
* Individual store prices may vary.
Description
From Estonia's most celebrated children's author Eno Raud, comes a spirited tale of the wise, turned utterly foolish Gothamites, on a journey to capture light, solve riddles, and make sense of the world without a "grain of wisdom." Through Pritt Parn's brilliant and overflowing illustrations, the world of Gotham bounds beyond each page.

In a faraway land live a bright, industrious people called the Gothamites. They are known for being model citizens, so much so that other communities constantly call upon them for advice, leaving the Gothamites with no time for themselves. Fed up, they hit on a solution: they'll become the most foolish people around: after all, no one wants foolish advice. Chaos ensues, brilliantly captured by Eno Raud's wordplay and Priit Parn's crowded illustrations. From one of Estonia's most cherished children's authors comes the spirited tale of a town that decides to wreak havoc in hilarious fashion.
About the Author
Eno Raud (1928-1996) was a celebrated Estonian children's author. He worked as an editor of children's literature before becoming a freelance writer. Raud published over 50 children's books, which have been translated into over 30 languages. He won the Children's Literature Annual Prize twice, and his book J&aauml;lle need naksitrallid was awarded the Soviet Estonia Prize in 1987. About the translator: Adam Cullen translates Estonian prose, poetry, and drama. His translations include novels by Mihkel Mutt (The Cavemen Chronicle), Rein Raud (The Brother), Kai Aareleid (Burning Cities), and Tonu Onnepalu (Radio). Originally from Minnesota, he now resides in Estonia.

Pritt P&aauml;rn is an acclaimed Estonian cartoonist and animation director. A member of the European Film Academy since 2008, Parn has received many awards for his animated films, including the Lifetime Achievement Award from the International Animated Film Association (2002) and the Lifetime Achievement Award at the World Festival of Animated Film (2008). He currently teaches at the Estonian Academy of Arts.
Praise For The Gothamites…
"The richly colored, Brueghel-like illustrations feature intricate, comical scenes of the Gothamites in all their splendid incompetence." — Kirkus Reviews

"Fantastic things change into usual, the supernatural is described as the most natural; and everyday life is turned into an extraordinary and interesting fancy world ... Yes that is the way of the author: to give thrilling adventures, nothing but thrilling adventures."  --Andres Jaaksoo