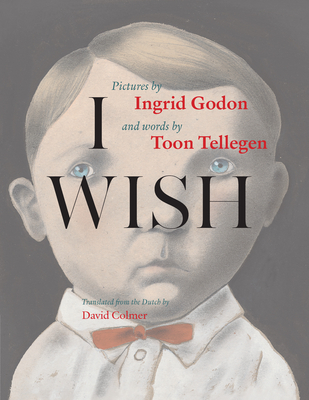 I Wish
Hardcover

* Individual store prices may vary.
Description
Bestelling Dutch children's author Toon Tellegen matches 33 imaginative prose-poems prompted by the statement "I wish" with luminous, old-fashioned portraits by Ingrid Godon in this beautiful, unique volume perfect for thoughtful young readers.

I Wish pairs writing with a gallery of portraits inspired by old-fashioned photographs - faces staring out at us with the serious, veiled expressions of a bygone time. Scattered among the paintings are young children, men and women, and babies, speaking through Toon Tellegen's yearning language. Like dozens of confessions poured from the page, the writing presents a glittering kaleidoscope of wishes, from imagined feats of heroism to reciprocated human love.
Praise For I Wish…
"This Dutch import pairs portraits with poetry to articulate wrenching individualism, yearning, humor, desires, and pathos ... This probing psychological journey makes for an exciting exploration in empathy." — Kirkus Reviews

"Each face is round as the moon, with small shining eyes that sit curiously far apart...The figures rarely smile. One boy wears a bellhop's uniform; another, a red jersey and cap. Tellegen's inward-turned, free verse poems, gracefully translated by Colmer, give them voice...By voicing the fears, angers, and secret desires of the figures, Tellegen spurs readers to embrace those of others, and their own." — Publishers Weekly

"A strange, melancholy, oddly hopeful book for our strange, melancholy, oddly hopeful little world." — Evanston Public Library, 101 Great Books for Kids List of 2020

"A book of prose by Toon Telegen based on illustrations by Ingrid Godon offers timeless musings about life...it will be as simple or as complex as you need it to be for you. What you read in this book of wistful poetic prose is inspired by, and based on portraits with eyes that allow you to peer into delicious intimacy. The portraits themselves look unposed and perfectly candid. It is as if the artist caught her subjects off guard." — Picture this Post

"The genius of Tellegen's poems is in their mystery ... David Colmer's great accomplishment in his translation of I Wish is that he creates a voice in English for the various speakers that doesn't pick a side, but instead breaks down our sense of what is "childlike" and what's for adults ... Like [English educator and reformer] Charlotte Mason, it sees [children] as persons ... Tellegen's poems share Charlotte Mason's high opinion of children, in that they show children to be capable of great depth of reflection about difficult ideas ... These are complex characters that give readers at any age much to chew on." — Reading in Translation

"I Wish isn't going to sit quietly in a category. It's the kind of book that would rather wander off and make up its own categories, expecting you to follow dutifully behind. And you will, because it is strange and wonderful and ultimately very very memorable. Can many other books out there say half as much? ... If ever there was a book worthy of a Batchelder Award, or some similar medal for translation and writing, it is this. A strange, melancholy, oddly hopeful book for our strange, melancholy, oddly hopeful little world." -- Elizabeth Bird, School Library Journal's "A Fuse 8 Production"

A "beautiful, unique volume perfect for thoughtful young readers...  a glittering kaleidoscope of wishes, from imagined feats of heroism to reciprocated human love." — Librairie Drawn & Quarterly

"I Wish is different. It stays with you. It makes you think. About the depths of others. The fears. The dreams. We will read it again. And again. And again. And keep thinking. Keep discussing. Keep wondering." — Victoria DiMassa, Glass of Wine, Glass of Milk (blog)

"I Wish is a made up of a series of powerful portraits by the Belgian illustrator Ingrid Godon, accompanied by philosophical meditations written by Toon Tellegen. Surprising in every way, the book has gone through reprint after reprint and was nominated for the prestigious Deutscher Jugendliteraturpreis in 2013." - Tzum (The Netherlands)

"Several years ago Ingrid Godon surprised friend and foe with a series of mysterious portraits of children...Connoisseurs of children's books already knew she was capable of much more than cute animal faces, but with these intimist, realistic portraits she has tapped into an entirely new style. Initially it seemed like I Wish would remain primarily an art project - until the author Toon Tellegen and the designer Kris Demey joined in and turned it into a gem of a book." - De Standaard (Belgium)

"Portraits that recall both family photographs and the Dutch and Flemish masters...Texts that reveal imaginary wishes that are far removed from the usual presentations of childhood happiness, speaking too of hurt, fears, lost joy, unfulfilled longing and hopes that might yet be fulfilled...An outstanding example of the literature of childhood, full of wisdom and of a brilliance that calls out for calm, quiet moments to enjoy it." - Jury Report, nomination for Deutscher Jugendliteraturpreis
Elsewhere Editions, 9781939810328, 105pp.
Publication Date: March 31, 2020
About the Author
Toon Tellegen is a Dutch writer and poet. He published his first collection of stories for children in 1984 and has published more than twenty collections of poetry to date. In 2001, his book Raptors (Raafvogels), translated into English by Judith Wilkinson, won the British Poetry Society's Popescu Prize for European Poetry in Translation. Tellegen was also awarded the Theo Thijssen Prize and the Constantijn Huygens Prize for his entire ouvre.

Ingrid Godon is a Dutch children's book illustrator. Her first illustrated book, Wachten op Matroos, was published in 2000 and accompanied by André Sollie's poetry. It was awarded a Gouden Griffel, Boekenpauw en Boekenwelp. Her illustrations stand out for their poetic, sensitive depictions of people and places. When Ik Wou (I Wish) was launched in 2011, it was nominated for the Deutsche Jugendliteraturpreis award.

David Colmer is a writer and translator. He translates Dutch literature in a wide range of genres including literary fiction, nonfiction, children's books, and poetry. He is a four-time winner of the David Reid Poetry Translation Prize and received the 2009 Biennial NSW Premier and PEN Translation Prize. His translation of Gerbrand Bakker's The Twin (Archipelago) was awarded the International IMPAC Dublin Literary Award and he received - along with Gerbrand Bakker - the Independent Foreign Fiction Prize for Bakker's novel The Detour.