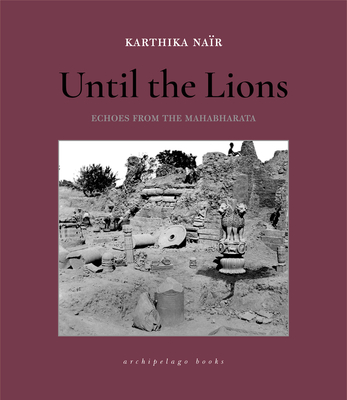 Until the Lions
Echoes from the Mahabharata
Paperback

* Individual store prices may vary.
Description
A dazzling and eloquent reworking of the Mahabharata, one of South Asia's best-loved epics, through nineteen peripheral voices. With daring poetic forms, Karthika Naïr breathes new life into this ancient epic.

Karthika Naïr refracts the epic Mahabharata through the voices of nameless soldiers, outcast warriors and handmaidens as well as abducted princesses, tribal queens, and a gender-shifting god. As peripheral figures and silent catalysts take center stage, we get a glimpse of lives and stories buried beneath the dramas of god and nation, heroics and victory - of the lives obscured by myth and history, all too often interchangeable. Until the Lions is a kaleidoscopic, poetic tour de force. It reveals the most intimate threads of desire, greed, and sacrifice in this foundational epic.
Praise For Until the Lions: Echoes from the Mahabharata…
"The thirty haunting, heartrending chapters, in a wide range of forms and styles, resonate powerfully with one another...Women whose names are known from the Sanskrit epic but whose character and inner experience are muted there suddenly come to life as full-blooded people caught up in the destruction endemic to a male world." — David Shulman, New York Review of Books

"Naïr, in nearly three hundred pages of connected poems, reimagines the story of the Mahabharata as the lions' story, giving a voice to nineteen of its characters and allowing them each to tell their own account ... Employing poetic structures including the canzone and the obscure French form rimas dissolutas, among many others, Naïr deftly shifts from one voice to the next." — Bibi Deitz, Bomb

"I am astounded by the personalized shifts with which Karthika stamps her voice on the Mahabharata, so tender, fierce and visionary. It's a liberating experience to be dissolved into what Amjad Nasser called "the ten metaphors of poetry," so to speak, between grief and love, ecstasy and despair, meaning and nonsense." — Fady Joudah, Shelf Awareness

"John Dryden famously spoke of translation taking three forms: metaphrase, paraphrase, and imitation. Though written in English, Karthika Naïr's Until the Lions certainly fits this last category. Her feminist take on the Mahabharata, India's great epic, is an astonishing demonstration of the power of translation to reshape and renew the literature of the past." —Edwin Frank, in Words Without Borders

"The Mahabharata, the larger of India's two epics, was composed roughly 2,000 years ago...In reading Naïr's book, I felt as if I had scratched the surface of a palimpsest (the epic) and discovered a room teeming with three-dimensional living souls...Until the Lions adds a brilliant new thread to this rich literary tapestry." — Harvard Review

"Has been rightly hailed as a magnum opus by the critics." -- Wasafiri

"The Mahabharata will always take you back to the deepest existential questions. It continues to instigate superlative writing as well. Karthika Naïr's Until the Lions is an unshakable masterpiece of modern poetry, one of the great retellings of the text." -- Indian Express

"Naïr's intervention -- a series of dramatic monologues that give the epic's women psychological depth, wrath and despair -- is brilliantly executed. -- Times Literary Supplement

"Until the Lions is a triumph of narrative and poetic risk-taking. Five years in the making, Nair's collection of poems, written in the voices of women in the Mahabharata, has been rightly hailed as a magnum opus by critics." - Aditya Mani Jha, Wasafiri
Archipelago, 9781939810366, 290pp.
Publication Date: November 12, 2019
About the Author
French-Indian, poet-dance producer/curator, Karthika Naïr is the author of several books, including The Honey Hunter, illustrated by Joëlle Jolivet and published in English, French, German and Bangla. Until the Lions: Echoes from the Mahabharata, her reimagining of the Mahabharata in multiple voices, won the 2015 Tata Literature Live! Award for Book of the Year (Fiction). Her latest book is the collaborative Over and Under Ground in Mumbai & Paris, a travelogue in verse, written with Mumbai-based poet Sampurna Chattarji, and illustrated by Joëlle Jolivet and Roshni Vyam. Naïr was also the principal scriptwriter of the multiple-award-winning DESH (2011), choreographer Akram Khan's dance solo; its family show-version; Chotto Desh (2015) and Until the Lions, Khan's adaptation of one of the chapters of her book. As a dance enabler, her closest association has been with Sidi Larbi Cherkaoui and Damien Jalet as executive producer of works like Three Spells, Babel (Words), Puz/zle and Les Médusés, and as co-founder of Cherkaoui's company, Eastman.
or
Not Currently Available for Direct Purchase