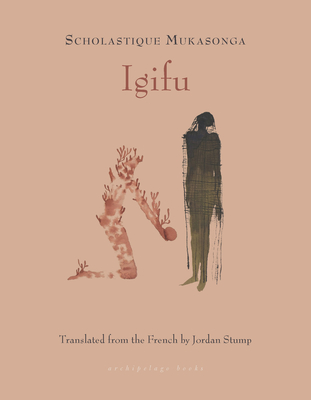 Igifu
Paperback

* Individual store prices may vary.
Other Editions of This Title:
MP3 CD (9/27/2022)
Compact Disc (9/27/2022)
Description
The stories in Igifu summon phantom memories of Rwanda and radiate with the fierce ache of a survivor. From the National Book Award finalist who Zadie Smith says, "rescues a million souls from the collective noun genocide."

Scholastique Mukasonga's autobiographical stories rend a glorious Rwanda from the obliterating force of recent history, conjuring the noble cows of her home or the dew-swollen grass they graze on. In the title story, five-year-old Colomba tells of a merciless overlord, hunger or igifu, gnawing away at her belly. She searches for sap at the bud of a flower, scraps of sweet potato at the foot of her parent's bed, or a few grains of sorghum in the floor sweepings. Igifu becomes a dizzying hole in her stomach, a plunging abyss into which she falls. In a desperate act of preservation, Colomba's mother gathers enough sorghum to whip up a nourishing porridge, bringing Colomba back to life. This elixir courses through each story, a balm to soothe the pains of those so ferociously fighting for survival.

Her writing eclipses the great gaps of time and memory; in one scene she is a child sitting squat with a jug of sweet, frothy milk and in another she is an exiled teacher, writing down lists of her dead. As in all her work, Scholastique sits up with them, her witty and beaming beloved.
Praise For Igifu…
"Igifu depicts the lives of Rwanda's Tutsis from their exile in the 1960s to the genocide of the '90s . . . [Scholastique Mukasonga] mediates the personal through fable to convey the sense of a collective past . . . Mukasonga's language, in Stump's translation from the French, is at once intimate and impersonal . . . The devastation in Mukasonga's stories is only amplified by the short story form." — The New York Times

"Haunted though they are by the memory of the unspeakable atrocities visited on her family and her people, these stories by Scholastique Mukasonga breathe upon a vanished world and bring it to life in all its sparkling multifariousness." — JM Coetzee

"Mukasonga carefully attends to how individuals' attempts to negotiate unspeakable tragedy can lead to sad, odd, and even grimly funny situations . . . Igifu is full of deeply human moments. Taken as a whole, it's an impressive and affecting work of art." -- Publishers Weekly, Starred Review

"Reminiscent at times of Iris Origo, Mukasonga writes with world-weary matter-of-factness, her stories understated testimonials to the worst of times. Elegant and elegiac stories that speak to loss, redemption, and endless sorrow." -- Kirkus

"Mukasonga has been writing autobiographical stories about her upbringing and Rwanda's genocide for years, but "Igifu" may be her brightest, most eye-opening work yet." -- LA Times

"Mukasonga's autobiographical short stories about Rwanda plunge the depths of memory and grief, but also love and hope." -- Chicago Review of Books

"Mukasonga's superbly crafted stories leave the reader with a deep sense of desolation, thanks, in part, to her deft use of metaphor...Yet these stories are not devoid of joy and hope. The fortitude and perseverance of the Tutsi women; the bonds that unite neighbors, who put aside grudges and pull together in times of need; the beautiful milking rituals of the Tutsi farmers; the willingness of one woman to raise another's child, should it be necessary — these particulars leave the reader with profound appreciation for the resilience and generosity of the Tutsi people. With Igifu, Scholastique Mukasonga has written a wonderful and important book, one that will expose most Western readers to unexpected new worlds." — Washington Independent Review of Books

"A collection of autobiographical stories set during the Rwandan genocide, Igifu will tear out your heart and piece it back together again. Dealing with themes of poverty, starvation, and death, the stories in Scholastique Mukasonga's new collection will haunt you long after you've finished reading." — Bustle

"Mukasonga's gift lies in illustrating the day-to-day reality of a persecuted minority, the calculations that must be made and the humiliations endured . . . The matter-of-fact psychological probity of Mukasonga's work is akin to the piercing memoirs of Annie Ernaux and the early novels of Edna O'Brien. She also shares their gift for writing about childhood." — Harper's Magazine

"Igifu is a study in collective grief and trauma that finds its strengths through the observations of ritual . . . Scholastique Mukasonga is interested in the inability of the human mind to conceptualize genocide, overwhelming in its evilness and reach. As her characters find themselves unable to articulate what has transpired, her stories verbalize the horror of genocide in ways drastically abstract, beautifully and imaginatively rendered." — Full Stop

"Autobiographical elements continue to haunt [Scholastique Mukasonga's] exquisite collection, Igifu, through five wrenching stories...Providing welcome continuity, French professor Jordan Stump translates the book, making Igifu the third of Mukasonga's four English-language titles Stump has translated with graceful agility... Igifu seems to serve as a bridge among Mukasonga's oeuvre, moving from memoirs (debuting in 2006 and 2008 in France) to this short fiction, to her first novel, Our Lady of the Nile... Despite the undeniable terror, Mukasonga's storytelling proves illuminating and resilient." --Terry Hong, Smithsonian BookDragon, in Shelf Awareness

"These stories are intimate portraits of young people with no choice but to carry on. The heartbreaking realities of their plights are balanced by absorbing glimpses into Tutsi culture and the characters' unquenchable senses of hope. Their resilience is inspiring, while their need to be resilient is a tragic reminder of the consequences of prejudice and unthinking hatred. Igifu is a poignant collection about the effects of trauma on tradition, community, and individuals." — Eileen Gonzalez, Foreword Reviews

"Combining the authority of traditional storytelling with the techniques of the social novel, [Scholastique Mukasonga's] books explore themes of mourning and remembrance, female community, education and the insidious legacy of Rwanda's Christianisation. At their centre lies the struggle of Rwandan Tutsis, who suffered decades of violence and displacement before the genocide of 1994." — Julian Lucas, The White Review

"I will read anything and everything by Scholastique Mukasonga, who writes in French and is translated by Jordan Stump. Mukasonga's writing is beautiful, lucid, and moving about the most chaotic and devastating experiences. Her work astounds me in a way that few writers do. I return again and again to the haunting opening of The Barefoot Woman, her memoir about her mother, Stefania, who was murdered in the Rwandan genocide. The memoir itself is how the narrator keeps a broken childhood promise to her mother, 'my sentences weave a shroud for your missing body.' In September, I look forward to reading Igifu, a story collection published by Archipelago." -- Grace Talusan, author of The Body Papers, in Restless Books

"[Igifu] contains nothing less than the heaviness of memory — its oceanic vastness, its vitality to the health and recovery of a community, its weight on the individuals charged with keeping it. Though each story has its narrators, characters, and families, I came away feeling that the main storyteller was both one and many — a we, a collective. In isolation, the stories are glittering gems; together in their own collective, they shed smoothness, and each edge is felt." —Anna Weber, events manager, White Whale Bookstore, in BuzzFeed

"Like Primo Levi's accounts of the Holocaust or Nadezhda Mandelstam's memoir of persecution in Stalinist Russia, Mukasonga faces the very worse people have done without flinching, without bitterness or hatred, but with a steadfast refusal to forget. The stories function like a resurrection, bringing back not only the dead but the people's relationships, cultural traditions, humour and beauty."— Marisa Grizenko, Plain Pleasures


"From the first [story in Igifu], I was ushered to dazzling new outlooks on the world, some tinged with wit, some with terror . . . This is an author who goes well beyond recollection; she's alert to the signals of other people's nerve-endings." —John Domini, Brooklyn Rail

"Igifu is about displacement and resettlement, about the relationship with foreign lands and outside forces – Hutu, Belgian, Burundian – whose imposition generates devastating and unequal consequences . . . Unsettling as it may be, the choir of voices in the book confers a sense of reality to the stories, which read like chronicles of real people, infusing the reading experience with a sense of responsibility and urgency that the reader cannot ignore." – Anna Giulia Novero, Wasafiri

"I read this slim collection of most autobiographical short stories in one sitting. There was no way that I would take a break . . . Stump's translation is deep-rooted in understanding the Tutsi people, their loss, their trauma, and how to appropriately put it on paper . . . As a reader, all I could do was understand, learn, unlearn, and be left with a sense of empathy and appreciation as to how Mukasonga writes through it all – with great tenacity and resilience."
--Vivek Tejuja, The Hungry Reader
Archipelago, 9781939810786, 160pp.
Publication Date: September 15, 2020
About the Author
Born in Rwanda in 1956, Scholastique Mukasonga experienced from childhood the violence and humiliation of the ethnic conflicts that shook her country. In 1960, her family was displaced to the polluted and under-developed Bugesera district of Rwanda. Mukasonga was later forced to flee to Burundi. She settled in France in 1992, only two years before the brutal genocide of the Tutsi swept through Rwanda. In the aftermath, Mukasonga learned that 37 of her family members had been massacred. Her first novel, Our Lady of the Nile, won the 2014 French Voices Award, was shortlisted for the 2016 International Dublin Literary award, and in 2019 was adapted into a film by Atiq Rahimi. In 2017, her memoir Cockroaches was a finalist for the LA Times Charles Isherwood Prize. In 2019, The Barefoot Woman was a finalist for the National Book Award for Translation. About the translator: Jordan Stump has received the 2001 French-American Foundation's Translation Prize, and in 2006, was named Chevalier de l'Ordre des Arts et des Lettres. He has translated the work of Marie NDaiye, Eric Chevillard, Marie Redonnet, Patrick Modiano, Honoré de Balzac, and Jules Verne, among others. He is a professor of French literature at the University of Nebraska.
or
Not Currently Available for Direct Purchase