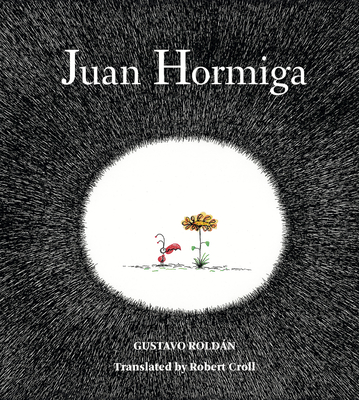 Juan Hormiga
Hardcover

* Individual store prices may vary.
Other Editions of This Title:
Hardcover, Spanish (3/31/2015)
Description
A whimsical tale in which family lore inspires newfound daring, told by Argentina's sleepiest ant

Juan Hormiga, the greatest storyteller of his entire anthill, loves to recount his fearless grandfather's adventures. When Juan and his fellow ants gather around for storytime, he hypnotizes all with tales of his grandfather's many exploits - including his escape from an eagle's talons and the time he leapt from a tree with just a leaf for a parachute. When he's through telling these tales, Juan loves to cozy up for a nice long nap. He's such a serious napper that he takes up to ten siestas every day! Though well loved by his ant friends, Juan decides telling tales and sleeping aren't quite enough for him - it's time to set off on his own adventure. With whimsical, irresistible illustrations, Juan Hormiga affirms the joys of sharing stories, and of creating your own out in the world.
Praise For Juan Hormiga…
"Storytelling shows itself as both art form and communal delight in Gustavo Roldán's tale of an exceedingly small raconteur . . . Juan Hormiga specializes in relating episodes from the life of his grandfather, a daredevil whose exploits, as Juan tells them, enthrall his industrious compatriots . . .  Readers ages 5-8 will find themselves brought full circle in this assured and charming tale." — The Wall Street Journal

"Juan Hormiga is finally available in English, and thank goodness! . . . Whimsical, charming, fun, adorable, the whole nine yards of illustration and description . . . Juan Hormiga is a jewel of a story. It has everything my kids and I want from a book."  — Juanita Giles, NPR.org

"This fable, written and illustrated by Argentine author Gustavo Roldan, is an homage to storytelling and the power of myth." — Laurie Hertzel, Minneapolis Star Tribune

"This fable is a homage to storytelling and the power of myth." — Richmond Times Dispatch

"The book is charming . . . The art is done in black ink with bursts of color in red, green and tiny bits of yellow . . . Much like Stuart Little . . . Juan Hormiga is refreshing in its simplicity." — Susan Middleton Elya, New York Journal of Books

"Juan, a red denizen of a colony of busy black ants, offsets his extreme indolence by enthralling his mates with picaresque tales of his grandfather's derring-do . . . Charmingly ant-ic black line drawings, accented with red, green, and yellow, pop against expansive white space. Dialogue is keyed in red type, enhancing the handsome overall design. Roldán celebrates the social currency of cracking-good storytelling—and the expediency of a well-placed nap." — Kirkus Reviews

"This Argentinian import, a delightfully idiosyncratic ode to storytelling, just begs for a readers' theater performance, balancing the various ants' emotive musings with a folkloric narrative tone . . . The scribbly art has a cheerful verve with dynamic compositions and a plethora of frantic motion lines, and the ants themselves are pleasingly odd little dudes with oversized beaklike heads protruding over pudgy bottoms and sticklike appendages." — Bulletin of the Center for Children's Books

"Juan Hormiga is an ant with two skills: his impressive napping and his hypnotic storytelling . . . With a funny ending, a nested telling, and a folktale's meandering charm, this story has the same hypnotic draw as Juan Hormiga's own." — Publishers Weekly

"Juan Hormiga is a little tiny ant but his stories do wonders. When he sets off on his own adventures, you are on the edge of your seat to see where he is going and what will happen . . . A beautiful, playful story full of sparkle & creativity." — Olga Popivker, Stylish Modern Motherhood

"Juan's ability to enchant is infectious . . . If you want something that shows — doesn't tell, but shows — the power of stories, this is for you." —Victoria DiMassa, Glass of Wine Glass of Milk
Elsewhere Editions, 9781939810823, 64pp.
Publication Date: May 4, 2021
About the Author
Gustavo Roldán was born Argentina in 1965. His illustrations are widely published, and he has been exhibiting his work since 1985. His books have been published in numerous countries including Mexico, Belgium, Spain, The Netherlands, Brazil, Korea, and Switzerland and have earned him recognition from A.L.I.J.A. (Argentine IBBY), the Prix Octogone (CIELJ, France), and inclusion in the White Ravens catalogue created by the Judendbibliothek in Munich, Germany. His other books with A buen paso publishing house include El señor G (translated into six languages), Historias de Conejo y Elefante, and Juan Hormiga, both also published internationally. He currently lives in Barcelona, where he is a contributor to several publishing houses.

Robert Croll is a writer, translator, musician, and visual artist from Asheville, North Carolina. He first came to translation during his undergraduate studies at Amherst College, where he focused on Julio Cortázar's short fiction. His translations include The Diaries of Emilio Renzi by Ricardo Piglia, published by Restless Books.