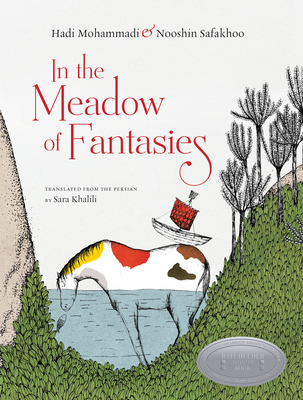 In the Meadow of Fantasies
Hardcover

* Individual store prices may vary.
Description
Written by the winner of IBBY's Best Book Award, Mohammad Hadi Mohammadi, In the Meadow of Fantasies is one girl's luminous escapade into a land of seven mysterious horses.

A young girl with a physical disability gazes up at a mobile of spinning horses from her little pink bed in her room filled with leafy plants. As she watches them prance about, the tufted snout of a real live horse peeks through her bedroom door. Soon enough, our bright protagonist is off and cantering on an adventure with seven majestic horses. The first six are easily understood: their colors, dreams, families, and origins are described and accompanied with exquisite drawings. The seventh horse, however, is an enigmatic creature with no clear hue or history, a lack that is soon filled in by the loving offerings of the other ponies. A story about dreaming and about caring for others, In the Meadow of Fantasies will remind young readers of their own reveries and conjure new fantasies of friendly creatures in far off lands.
Praise For In the Meadow of Fantasies…
"Mohammadi has a marvelous understanding of the role of repetition in a children's picture book text . . . Safakhoo's art is sublime. I absolutely adored the facial expressions of the seventh horse (which has, and I mean this in the best possible way, a kind of Berkeley Breathed quality to it)."
--Betsy Bird, School Library Journal

"Not a folktale, not a poem, not a dream, but some whirling mixture of the three, this lulling recitation by Iranian author Mohammadi affirms generosity as a natural impulse . . . Repeating phrases and softly amusing drawings give this imaginative realm of loving-kindness a gossamer touch."
--Publishers Weekly

"This fantastical adventure draws readers in with lyrical text and mesmerizing illustrations. Each page turn reveals a new layer of fantasy . . . Deft composition pairs slightly rough, stonelike textures with exquisite details . . . Though the story is ultimately joyous, there's an emotionally compelling sense of longing that thrums just under the surface."
--Kirkus Reviews

"In the Meadow of Fantasies is bursting with warmhearted inspiration. Most likely this book will comfort in many ways. As a bedtime story, as a tale for horse lovers everywhere, as a companion in the question-laden wonder years of childhood, as a stunning example of where imaginations lead."
--Cindy Helms, New York Journal of Books

"Delicate pen-and-ink drawings filled with watercolor wash relate a dreamy story of a little girl confined to bed . . . The girl's legs are encased in splints, but a spinning mobile of horses overhead provides comfort and diversion . . . I especially enjoyed the animals arrayed at a dinner table with plates of grass, each with their fanciful dreams erupting from the heads." ."
--Youth Services Book Reviews

"Between the captivating art, the lyrical narration, and the fantastical story, readers will be swept away into a little girl's wonderland . . . In the Meadow of Fantasies is an ode to imagination and a celebration of beautiful creation."
--Victoria DiMassa, Glass of Wine and Milk

"When you pick up this book, you are holding something precious in your hands—a velvety, folkloric tale of seven horses and the young disabled girl who dreams of them from her bedroom . . . Nooshin Safakhoo's breathtaking illustrations left me sighing in awe and contentment.  A dream of a book!"
--Mary Wahlmeier Bracciano, Bookseller at The Raven Book Store (Lawerence, Kansas)

"Characters with disabilities are rare in children's books and even rarer is a character with a disability who gets to be a character first, rather than serving as a teachable moment or discussion point for inclusion and diversity. To have the opportunity to read an engaging and enchanting story with a protagonist as one with a disability—not to mention, a story in translation—is a joy."
--Melanie Ho, Asian Review of Books

"This picture book follows a girl and her seven imaginary horses—some of whom are blessed with gifts like homes, and dreams, and shades of being, but one of whom is not . . . Delicate line illustrations with dazzling touches—pools of color; trees sprouting from imaginative heads; moonlit celebrations—are used to follow along as he, and the girl, blossom."
--Michelle Anne Schingler, Foreword Reviews

"This is a joyful book about sharing and imagination – simply drawn in a palette of mainly natural colours one would find in nature . . . A wonderful opportunity to read a work in translation and appreciate the worldwide message that we all need fantasies and imagination."
--Love Reading 4 Kids

"In the Meadow of Fantasies is a gently profound book on sharing, imagination, and caring for others."
--Kendal A. Rautzhan, The Canton Repository

"Hadi Mohammadi's evocatively named In the Meadow of Fantasies . . . tells a tender and beguiling story about a child's imagination and is a story of generosity . . . There is an underlying joy that permeates the story, as we see the girl — and it's understood that she's not able to get about on her own two feet — run and engage in imaginative play with the seven horses. She, in essence, creates her own agency with her imagination."
--Julie Danielson, Seven Impossible Things Before Breakfast

"The story works using repetition so the child can learn the words and join in . . . Your child is going to love it and will want to read it over and over again. It's a perfect book to start introducing  reading and counting . . . An amazing book to sit and read together."
--Lady Reading blog

"Part fable, part fairy tale, Mohammadi's story feels both timeless and contemporary . . . This book is about the ways we are created by the people, culture, and community around us. Safakhoo's illustrations are gloriously full of expression and movement."
--Timothy Otte, Wild Rumpus Books

"The illustrator, Nooshin Safakhoo, has a very unique and fanciful way of visualizing horses and their environment. The colors are bright but not overbearing… all are soft natural shades evoking the feeling of being in the middle of a forest . . . The translator, Sara Khalili, perfectly captured the feel of a grandmother spinning this tale for her little ones.  It is definitely a very enjoyable "must read" for you and yours."
--Sybrina's Book Blog

"In this imaginative adventure, a girl and seven horses embark on a fantastical journey. This is a lyrical parable that invites multiple readings and interpretations as the horses gather to share their visions and dreams. The poetic language and stunning illustrations effortlessly coalesce into themes of wonder and delightful discovery."
--Mildred L. Batchelder Award Committee

"Repeated poetic refrains and imaginative illustrations combine to create a compelling tale from the rich storytelling tradition of Iran."
--Marie A. LeJeune, Batchelder Award Committee Chair

"Hadi Mohammadi's text, with its multiple repeated words, has a deceptively childlike, mesmeric quality about it that transports readers to another time and place. And Nooshin Safakhoo's illustrations are surreal and sublime . . . In the Meadow of Fantasies is a beautiful picture book for all to enjoy. It has a . . . richness and depth that invite further thought and exploration."
-- Global Literature in Libraries Initiative

"In the Meadow of Fantasies prompts valuable conversations about sharing, accommodating, and celebrating one another."
--Mary Ann Cappiello and Erika Thulin Dawes, Text Sets and Trade Books


Elsewhere Editions, 9781939810908, 42pp.
Publication Date: November 2, 2021
About the Author
Hadi Mohammadi is a distinguished Iranian children's book writer, researcher, and critic. He began his career as a freelance writer at the age of 22 and has now published more than 40 novels and picture books for children and young adults. A strong proponent of women's rights, Mohammadi has centered strong and confident girls as his heroines throughout his career. His work has been translated into several languages, including English, Thai, Turkish, Korean, and Arabic. He was nominated for the Hans Christian Andersen Award in 2006.

Nooshin Safakhoo was born in Tehran in 1980. After teaching painting classes and illustrating magazine articles, she began a long career of painting precise, lyrical images for children's books, including The Owl & the Jaybird and Shahname. Her illustrations for In the Meadow of Fantasies have earned her numerous awards, including from the NAMI Concours; and she has been selected three times to show her work at the Bologna Children's Book Fair.

Sara Khalili is an editor and translator of contemporary Iranian literature. Her translations include Moon Brow and Censoring an Iranian Love Story by Shahriar Mandanipour, The Pomegranate Lady and Her Sons by Goli Taraghi, The Book of Fate by Parinoush Saniee, Kissing the Sword by Shahrnush Parsipur, and Rituals of Restlessness by Yaghoub Yadali. Her translation of Tali Girls by Afghan novelist Siamak Herawi is forthcoming from Archipelago.